Eco-friendly Shaving Tips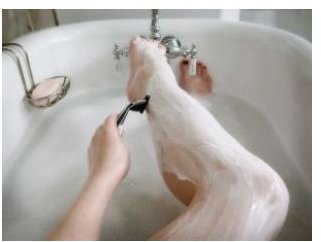 Unless your bold enough to go walking around with hairy legs, armpits or face, then you're going to have to invest in shaving products. Fortunately, there are more sustainable options for men and women when it comes to removing hair. You just have to know what to look for and what the best options are available.
Eco-friendly Shaving Supplies
Shaving can be a tedious task, and it can also waste a considerable amount of water. However, you can make your shaving routine go quicker if you have the right tools. Various types of eco-friendly products are available, so you just need to choose the ones that work best for your skin and lifestyle.
Plastic disposable razors are not a green option, but brands such as Preserve create their razor blade handles from recycled plastic. You can even purchase reusable razor handles such as the Wally Rubber Shower Razor. These options prevent plastic going to landfill since you can either reuse or recycle them.
Another efficient option is an electric razor with an Energy Star rating. Depending on the design, you might not get the closest shave in comparison to a razor, but it gets the job done. One downside is that you have to replace the cartridges regularly.
Sticking to razors might be the most eco-friendly option for both men and women, because reusable and recyclable razor handles are available. In addition, you can buy a razor blade sharpener to lengthen the lifespan of your razor blades.
Shaving Tips
Shaving every day and even every other day is rough on your skin. If you're a woman, try wearing pants or long sleeved shirts a few times a week to avoid shaving. If you're a man, sport the rugged look with a partial or full beard from time to time. This will give your skin a break from the blade, and you will reduce your usage of razor handles, blades, electricity or water.
Another way to have an eco-friendly shave is to use organic and natural soaps, lotions and shaving creams that are made locally. These products shouldn't contain chemicals. Look for natural botanical ingredients such as lavender, chamomile, lemongrass or aloe vera that are soothing and calming to the skin. If you can get a way with using soap instead of shaving cream, your waste is reduced since soap has less packaging. Don't forget to also consider a product's packaging before you buy it, because many companies are making an effort to package their products in post-consumer materials that can be recycled.