Premium Body Care by Whole Foods Market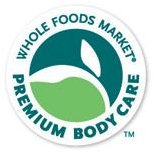 The Whole Foods Market chain has expand to most states in America over the past ten years. Mainly geared towards providing farmers and consumers with the ability to buy a greater selection of organic and whole foods, they have in recent years expanded into the organic and natural personal care area. Inside every Whole Foods Market store is a section called Whole Body and it is there in each Whole Body section that only includes products meeting a certain criteria.
The Premium Body Care™ logo and certification criteria by Whole Foods Market was created to test and ensure the quality of sourcing, environmental impact with results and safety. Each product is individually evaluated to make sure that the standards are met, which allows the store to have confidence in selling you the best organic and natural personal care products.
For a product to be labeled with the Premium Body Care™ logo there are a set of 300 ingredients that many commercial products contains that are deemed unacceptable for their products. Such things as,parabens and the sodium lauryl/laureth sulfates are not allowed in any product sold. You can read the entire listing of all three hundred chemical ingredients online at: Ingredients Unacceptable for Premium Body Care
Surprisingly enough, even with the strict standards and the knowledge of chemically prolific products being sold in America today the Whole Foods Market group has been able to find over twenty-five hundred products that can be actually called 100% organic, whole and natural. Among the green product makers that have made the acceptable list are:
Kiss My Face
ShiKai
Avalon Organics
Nature's Gate *only select products, not all products
Dr. Bronner's Soaps
Teens Turning Green
Whole Foods brand soaps
Alffia
Depth
Dr. Hauschka
Each approved organics producer offers a variation of personal care products from shampoo through to moisturizing day creams. Also, with the testing ongoing there will be more and more safe and truly organic personal care products available through Whole Foods Markets in the future. For more information on the Premium Body Care™ products, testing and requirements you can visit their main web site at: www.wholefoodsmarket.com