Get Sustainable Style With Naturally Knotty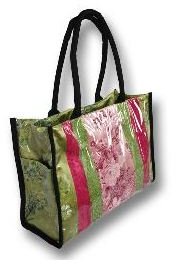 Naturally Knotty's Sustianable Style
Naturally Knotty was created by Jasmine Fullman in an effort to offer sustainable and quality products that would reduce the need people have to throw so many things away. All of the products featured through Naturally Knotty are designed in house with the use of some imported organic fair trade materials. They only incorporate environmentally-friendly manufacturing practices, as well as focus on the use of overstock and recycled materials as much as possible.
The name for the eco minded company, stems from the idea that many cultures regard the knot as a special symbol. Knots can represent trust, friendship, prosperity and peace. Each product designed by Naturally Knotty features at least one knot somewhere on the product and packing to reinforce the knot symbolism.
The Naturally Knotty group currently offers sustainable items into four categories which are: totes, wraps, clutches and baby items. Under the totes category there are Knotty Totes, Silk Market Totes, SimplyKnottys and Day Bags. The Knotty Totes are made from Jasmine's design of blending small strips of overstock silk fabric together for a 16" x 12" x 6" tote bag. The inside of the totes are created from recycled plastic, as is the coating on the outside of the bag to ensure that the bag lasts for a lifetime. There are six different fabric choices for these bags which are: Mango, New Poppy, Brown, Raspberry-Lime,Ching Dynasty Dragon and Red Green Swirl. Featured to the left is the Knotty Tote in Raspberry-Lime and retails online for $89.99. You can view more available tote bags through their online gallery at: Naturally Knotty Totes and Clutches.
Under the wraps category, the bamboo wraps have surpassed both the silk and the cashmere. The bamboo is a 100% organic sustainable fabric choice and is worked into an oversize wrap strip. One of the reasons that bamboo wraps are so popular is due to the fabric being an all season material that breathes in the summer and retains heat during the winter. The wraps come in a reusable bamboo package and retails online for $39.99 per wrap. To see their entire wrap line in variouseco-fabrics, visit their gallery at: Naturally Knotty Wraps