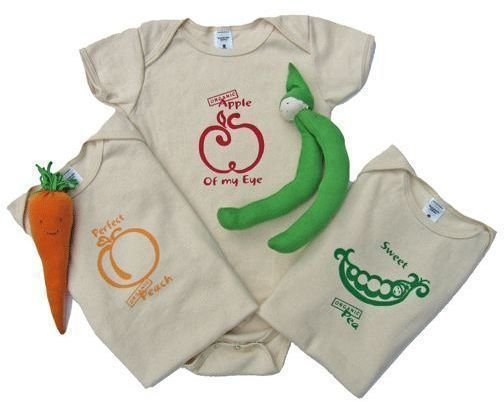 The green online retailer Mamas Baby carries a full line of natural fiber, organic onesies for babies. Using organic fabrics for your little one is a great way to start them off on a healthy life. Organic fabrics are grown without the use of any processed chemicals or commercial pesticides, which helps to keep your baby free from contact with harmful chemicals. Organic cottons have a higher factor ofbreath-ability, while organic hemp fabrics have natural antimicrobial properties to help keep your little one's skin clear and irritation free.
The organic onesie line is entitled Baby Bodies and includes various plain and graphic style onesies. The full line consists of eleven organic onesie sets and styles, with one set having a matching organic tote and teething toy included. Each organic onesie design comes in a range of three different size options of 3-6 months, 6-12 months and 12-18 months.
Baby Body- Long or Short Sleeved: The first organic onesie set comes in three different styles and includes matching organic cotton leggings. You have your choice of either the plain white, pink stripped or blue stripped sets. You can also choose whether you want the onesies to be long or short sleeved. Retail price for one short sleeved onsies and leggings in any pattern is $12.00. The the long sleeved set retails for $13.00.
The four basic white organic cotton graphic onesies all retail for $18.00 a piece. You can buy one of each as a set of four for $70.00 retail. Basic graphics come in the following designs:
Blue Owl on a Yellow Moon, with the phrase "Sleep All Day, Party All Night"
Brown Rolling Pin, with the phrase "Homemade"
Green Wording, with the phrase "My Stroller is a Hybrid"
Green Leafy Tree, with the phrase "100% Organic"
Organic Veggies: The organic veggies onesie set comes in your choice of three veggie styles with Apple of My Eye, Perfect Peach and Sweet Pea. Each veggie onseie order comes in an organic cotton matching gift bag with two organic veggie teething toys for baby. This organic cotton onesie set retails for $62.00 online.
Mamas Baby also carries organic baby product lines for the following items: bath & body care, hats, booties, bassinets, carriers, slings, blankets and cloth diapers. For more information on all that this onlineeco baby retailer has to offer, see their main web site at: www.mamasbaby.com
*image courtesy of Mamas Baby online, all rights reserved.