Imagine not having to run short errands using the car while still being able to bring your infant or toddler along. It can be easy, with a little one in the family, to feel like a slave to your vehicle when you've got places to go and a baby to care for.
Wearing your baby on your body with the help of a sling, pouch, or wrap is a great solution. Your baby is safe and comfortable while you have your hands free to get things done. Without the bulk of a stroller or a car seat carrier, you can walk between errands and minimize your driving.
Slings, pouches, and wraps each have their advantages and disadvantages. Read below to see which carrier will work for you. Other child carrier options include framed backpacks or other toddler-friendly carriers, such as a mei tai.
Slings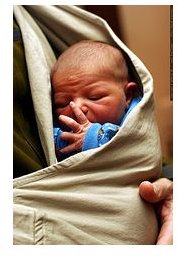 Slings usually have two rings though which the fabric can be adjusted (often called a ring sling). Adjustable slings can fit you, your husband, and other caregivers and also be adjusted as your baby grows. There are multiple ways to wear a sling, depending on your preference and the age of your baby. You can breastfeed your baby in security while wearing a sling.
Slings come in a wide variety of fabrics and prints. Popular brands include Maya Wrap, Zolowear, Sakura Bloom, and TaylorMade. Slings come with a full set of wearing instructions.
Pouches
Pouch-style baby carriers are sized to fit whomever will be wearing it. Pouches provide a snug, custom fit for your baby without having to adjust the sling and deal with leftover fabric. Just slip on the pouch, tuck baby in, and go. Pouches, though most are not size adjustable, are designed to fit your baby from infancy through toddlerhood (up to 35 pounds). Pouches may be worn in a variety of ways.
Popular pouches include those made by Hotslings, New Native, and Peanut Shell. Mama's Milk offers non-adjustable and "invisibly adjustable" baby pouch carriers. Each pouch comes with instructions on wearing positions.
Wraps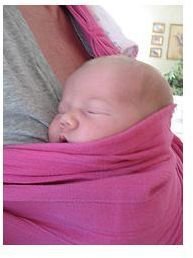 Baby wraps are basically a long piece of fabric that you wrap around yourself and your baby and tie to fit. Wraps are the most versatile way to wear your baby, with countless ways to secure your baby to your body. Offered in many fabric types, including stretch, woven, and lightweight, you can find a wrap that works for you.
Maya Wrap, Sleepy Wrap, and Gypsy Mama all offer high quality baby wraps. Wraps come with detailed instructions on how to use the wraps. Also visit wrapyourbaby.com for custom wraps and detailed wearing instructions.
Get One and Go!
All of the baby carriers mentioned above can be found online, many through peppermint.com. Using a sling, pouch, or wrap to transport your baby with comfort and ease can help make it feasible to drive less and walk more with your baby.