Recycled Tire Sandals from Floc Designs - Pocketflops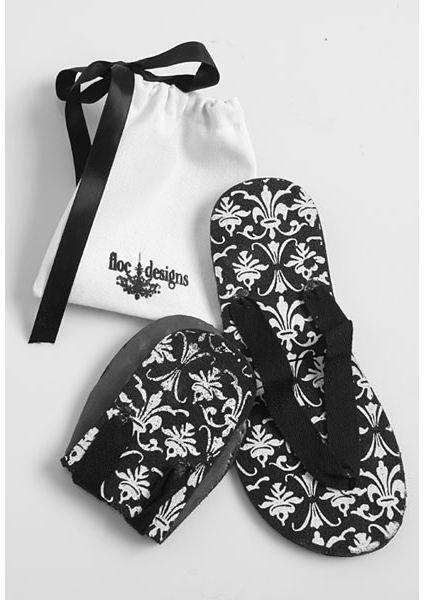 Floc Designs: Recycled Tire Fashion
What can be made from recycled tires? As the green movement continues to boom, a growing number of recycled tire products are entering the marketplace.
Floc Designs is an eco-friendly design shop that specializes in using recycled tire materials for their products along with organic or recycled fabric gift bags. Started in 2008, their innovative creations have become quite popular with the mainstream green movement.
Currently, Floc Designs offers two product lines with the option for personally customizable logo options. Offering to add group type logos allows for their products to be incorporated for fundraisers as well as corporate gift giving and eco-wedding favors. Custom order requirements come in a twenty set minimum order.
Their first and most popular product line is Pocketflops. Pocketflops are eco-fashion flip-flops made from 95% recycled tire material. They fold over and come in a matching design bag. Current designs available are the Obamaflops, Stoneflops, Ninjaflops, Floc Patterned flops and Chandelier flops. Each set of Pocketflops with carrying bag included retails for $20.00. Sizes available for the flops are Small (sizes 5.5-7), Medium (sizes 7-8.5), and Large (sizes 9-11).
Their second product line is coasters made from 100% recycled tire materials. The coasters come in the same design selection as the Pocketflops. Each coaster set includes four styled coasters and retails for $20.00.
The popularity of Pocketflops has come about over the past two years after being a featured item Real Simple magazine. Other product and eco-media outlets who have touted Pocketflops as the new "it" green gift include EcoStiletto, Women's Health, Simple Green & Clean, Mother Nature Network, The Green Girls, Ecogift Festival and Gorgeously Green.
As testament to their popularity, these flops were a featured as a gift item for green goodie bags at this year's Oscar celebration.
If you have a design that you would like to see custom done for the Pocketflops or coasters you can contact Floc Designs through their website at www.flocdesigns.com.