Organic Roobios Tea: Health Benefits of Roobios Red Tea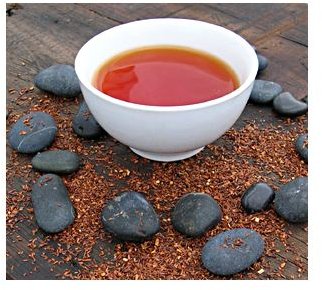 Rooibos: Organic Tea
Rooibos is the Afrikaans word for "red bush," which gets it's name because the green leaves turn red after harvesting. The plant is a small shrub with needle-like leaves indigenous to South Africa. As of yet, the rooibos plant has not been able to be harvested anywhere else in the world beyond the Caderberg area of South Africa.
The red tea steeped from the leaves of Rooibos has a mild taste, is low in tannin and is caffeine free. Because Rooibos is not filled with a high concentration of tannins the tea can be enjoyed throughout the day just as a refreshing beverage. Rooibos is also high in many essential vitamins and minerals such as iron, zinc and calcium. Aside from the pleasing taste of this tea, there are a multitude of alternative health benefits which include the following:
Immune system booster
Treat asthma
Ease headaches
Calm tension
Eases insomnia
Treat stomach cramps
Back in 1999, the Institute for Science of Aging at AICHI Medical University in Japan conducted a study to research the best tea for alternative health benefits. They found that Rooibos contained what is known as a Super Oxide Dismutase (SOD) which is an antioxidant combination. This little red tea from South Africa was shown to be better for overall human health than that of green and white tea.
Even though Rooibos is only grown and harvested in one part of the world, you can still but a supply of your own online. Teavana online has a varied selection where you can either buy the simple Rooibos tea as it has been harvested or you can buy a Rooibos tea blend with dried fruit or even organic Madagascar Bourbon Vanilla. The Rooibos teas range in retail price from $4.50 through to $7.00 for 20 oz. depending on the blend chosen. To view all of Teavana's Rooibos tea selection you can visit their website at www.teavana.com.