Recycling an Old Towel Into a Useful Beach Tote Bag: Directions on Sewing a Beach Bag Out of an Old Towel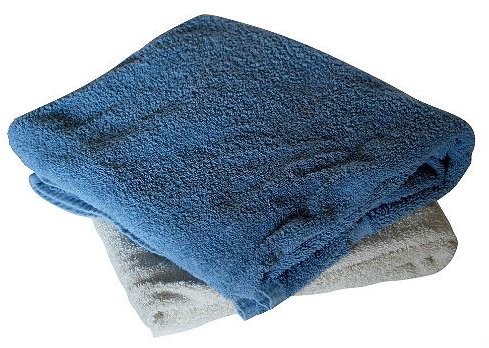 So your old towels are getting a little raggedy, and you're trying to find a way of recycling them. Instead of cutting them up into cleaning cloths, why not make beach tote bags out of them?
Supplies for Recycling Your Old Towel
For this recycling project, you will have to know how to sew, but you don't necessarily have to have a sewing machine. if you want to hand sew them, that's up to you, but the thickness of two layers of terry cloth is pretty hard to get a needle through.
You will need one old towel, scissors, thread and heavy needle, and heavy cording or cotton rope for the handles (four times the width of the towel plus 6 inches).
Assembling Your Tote Bag
First, determine which side of your towel you want to be the outside of your tote bag. Lay out the towel on a flat surface with your chosen side down.

You will need to make an opening for the tote bag handle cord to go through. Fold the ends of the towel over two inches, and pin. Now sew a double seam along the bottom, leaving the ends open.

Fold your old towel in half, with the inside out. Sew a 5/8" seam up each side, angling it out to the edge of the towel, so the stitching ends just below the previously sewed hems.

With your needle and thread, tack the seam down at the bottom and at the top, where it runs off the towel, to assure it won't come loose during use.

Thread the cording or rope through both sides of the hemming and tie together. Work that end back into the top opening so it doesn't show.

Turn the tote bag right side out, and there you have it! A tote bag you can take to the beach, hiking, or wherever else you want. When it gets dirty, just toss it into the wash. Use your imagination and see if you can think of other ways of recycling old towels.
Source: As an avid environmentalist and frugalista, the author has been finding ways to reuse and re-purpose materials since 1973. She loves finding new uses for things others throw away, and "curb shopping" is one of her favorite pastimes.