Eco-Clothing: ecoSkin
Fashion designer Sandy Skinner created ecoSkin in 2007 as an effort to offer contemporary designs for eco-conscious and fashion minded women. Sandy has been in the fashion business for over seventeen years and she brings that experience to her innovative eco-deigns. Every garment that ecoSkin creates is made from environmentally sustainable luxury fabrics all dyed and sewn in the United States.
"I wanted to give women a hip, sophisticated collection, as well as a sustainable product that would not leave a footprint on the environment," she says about the creation of ecoSkin.
Sandy has three eco-fashion lines created for the past three season of 2008, with the Spring 2009 collection currently in design mode. Here we are going to take a look at some of the items in the Fall 2008 collection. This collection is comprised of fifteen dresses both for day and evening wear, six tops in various styles and one long knit jumpsuit called "Star Stone" in red mahogany with 3/4 length sleeves.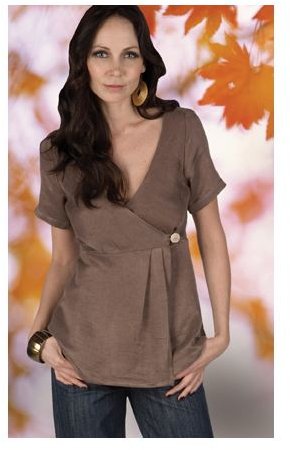 The pieces that you see here are the "Cook" top in deep taupe crafted from hemp silk and the "Obsidian" dress that comes in two color combinations, with the main block emphasis either in black or red mahogany.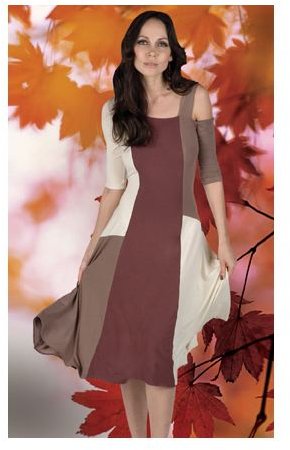 The past Summer 2008 and Spring 2008 collections are no longer available for purchase through the ecoSkin web site. You can still view Sandy's designs for that collection online through the collections gallery.
Since the company's inception, ecoSkin has garnered press in such publications as InStyle, Allure and Redbook. Celebrities from Charlize Theron, Christina Applegate and Alicia Sliverstone have worn her fashions in support of the industry doing more to be environmentally friendly.
Sandy's ecoSkin fashions are available for purchase, either online through the collection galleries at: www.ecoskincollections.com or at various eco-fashion shops through out the United States, Australia, Canada and the European Union. For a listing of individual store locations you can visit the locator here.
* images courtesy of www.ecoskincollections.com, Fall 2008 collection by Sandy Skinner