Louise Galvin Sacred Locks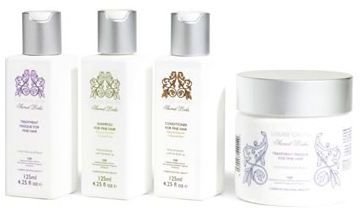 Among the organic hair care products that are on the market today, there is one company that has gone beyond the basic requirements needed to be labeled organic. That company is the self-titled Louise Galvin-Sacred Locks line of organic hair care products. Louise is has been a professional colourist in her father's London salon for the past 20 years and her main goal was to create a line of hair care that was not only healthy for her clients but healthy for the environment as well.
Louise's Sacred Locks products are created using natural organic ingredients, essential oils, natural extracts and only vegetable based moisturizing agents. The base of each product begins with organic botanicals such as grapefruit extract, geranium essential oil and wheat protein for deep cleansing. Depending on the need of the product whether it be for straight, curly or color treated hair is what dictates added organic ingredients. Each product is also free of any parabens, silicone, sulphates, petrochemicals, polymers and synthetic fragrances.
Sacred Locks products offer five different ranges of hair care lines. The Fine Hair Collection offers a clarifying shampoo made of organic natural citrus essential oils to clean without leaving residue, a conditioner made from organic wheat proteins to add volume as well as hydration and a treatment masque for fine hair made from organic honey with wheat, soy and corn proteins. The Fine Hair Collection also includes a Volumizing Kit with an organic citrus spray for shine and hold, six rollers and clips which comes in a pretty fair trade cotton bag.
The Mothers to be, New Mothers and Baby Too! line is comprised of the same organics that the Fine Hair Collection line is made of only in a fragrance free version. The shampoo contains apre -biotic calcium enriched organic formula to help a woman's body retain some of the lost calcium through pregnancy. The conditioner is based from the use of the organic Seaside Plum, also known as Ximenia Oil that acts like a natural silicone the smooth hair cuticles without causing a residue build up. The treatment masque also uses the Seaside Plum in combination with soy lipids to strength and condition hair organically during and after a woman's pregnancy.
The Natural Locks line was created to organically care for color treated hair in a carbon neutral way. The shampoo, conditioner and treatment masque in this line are based from organic vegetable ingredients in combination with various essential oils for fragrance that are designed to both clean the hair and protect its color over an extended period of time. Being a carbon neutral product means that this organic hair care line offsets the carbon foot print created in its production by giving a portion of its proceeds to The Carbon Neutral program.
The Curly Hair Collection expands on the Mothers to be, New Mothers and Baby Too! line by using the Seaside Plum as its base for unruly curly hair control. The shampoo combines the Seaside Plum with Tagates Minuta Flower Oil and Citrus Junos Peel Oil, among other organic oils to help smooth the hair shaft while cleansing. The conditioner also uses the Seaside Plum but combines the natural moisturizer with Mandarin and Yuzu fruit oils along with extra Vitamin E to maintain frizz control and lock in moisture. The treatment masque uses a base of the Seaside Plum, as well but also combines the intensive restorative properties of wheat, soy and corn proteins.
The last line offered from Sacred Locks is that of The Discovery Collection. A combination of 12 travel sized products from each collection that can let you test out the organic hair care options that Sacred Locks has on the market right now. The Discovery Collection also includes the new organically derived Hand and Body wash, which contains fragrant combination of mandarin, grapefruit, lemon, geranium and sweet orange oils.
If you would like to learn more about the Sacred Locks organic and carbon neutral hair care line, you can visit Louise Galvin's main web site at www.louisegalvin.com