Am I Really About to Quote an Amphibian?
Kermit the Frog is, perhaps, best known for his famous line, "It's not easy being green". Was our cute childhood friend simply speaking about the colour of his skin or was he years ahead of his time? As much as I'd like to ramble on about Kermit's possible insights, the whole objective of this article is to teach you that sometimes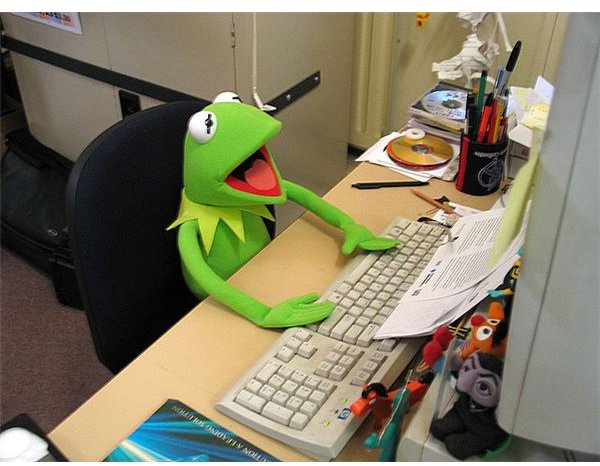 it really is easy to be green, there are simple ways to save the environment and buying software online is one of them.
Photo by Looking Glass
Environmental Benefits
There are several ways that purchasing and downloading a software product on the internet instead of buying a boxed copy from a store can help the environment. Here's a list of the important ways it helps:
Payments are completed electronically. When you buy software online, transactions are completely paperless and can be as an envir

onmentally friendly as

cutting back on your printing habits

.
There is nothing to throw out. Software that is bought online is created electronically and therefore has no waste. Conversely, when software is purchased "off-the-shelf", it isn't just the box it comes in that will end up in landfills. When products are shipped to warehouses and shops, there is additional packaging – boxes, Styrofoam, cellophane, tape, trays – that will eventually find its way to the dump.
There are no emissions of carbon dioxide and other greenhouse gasses. Purchasing software online saves on fuel consumption and unnecessary emissions from product manufacturing and transportation, as well as your own emissions that would be created when driving to the store.
Additional Benefits of Shopping Online for Software
Buying software online not only helps save the planet, it also has other benefits, including:
Ease and Simplicity. You can purchase software in your underwear at 4am if you really want to. Shopping online doesn't have to be done within regular business hours, nor do you need to look your best to do it. It's also easy to shop around for the best prices and takes less time than driving to the shops.
Save Money. Companies often have better deals when you purchase their software online. When you take out the middle man, you're not paying for transportation, storage and packaging costs, nor are you paying the percentage the shop will make from selling you the product.