Protect Your Secrets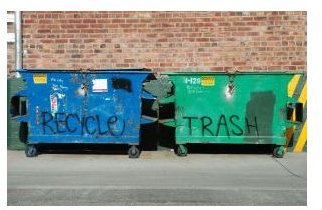 When you are running a business, more likely than not, you are bound to generate a stack of paper with confidential information included amongst the pages. In the past, many companies used specialized shredders to ensure that the information would remain secret. However, rather than recycling this paper, many of the companies tossed this paper in with the trash. The alternative, recycling sheets in a shared recycling bin also isn't a viable option. That is because nosy individuals may simply rummage through the trash in search of personal information.
What then is the best way to protect your secrets and run an earth-friendly company at the same time? Companies using a shredder are on the right track, only they need to go a further step to recycle the shredded paper. Alternatively, companies with confidential information may wish to hire an outside recycling company to do the dirty work. Whatever you decide to do when it comes to it, it is important to first explore your options.
Check with Your Local Recycling Depot
Sometimes companies are lucky enough to be located in a place where the recycling facility will accepted shredded paper. Believe it or not, not all such facilities accept shredded paper. There's a reason for this. When paper is recycled, it is often made into other paper products. Some otherwise well-meaning individuals might shred windowed envelopes (thus making the batch non-recyclable due to the plastic content). Another problem with shredded paper involves the notion that the fibers in the shredded paper are no longer long enough to make the recycled paper products strong. For this reason, many facilities will not use shredded paper in recycled products.
The Best Shredder?
Should your facility accept shredded paper, it's important to procure the right tool for the job – not all shredders are created equal. You should look for one that will both handle a large volume of paper and one that will do a good job of eliminating any potential that your information may be compromised. There are two things to keep in mind when you want to use your shredder for the purposes of recycling. First, if your local facility accepts shredded paper, do they have a preferred size. Second, what is the largest space between blades you can afford to use? Criss-cross shredders are great at getting rid of confidential information, however, when recycling the paper, the fibers need to be longer. When shopping for a shredder, make sure that your sales person understands you intend to recycle the shred once you're done with it.
Outside Services
If either your local facility does not accept shredded paper or if you do not want to go through the hassle of shredding papers (sometimes it can take forever if there's a lot to shred!), then perhaps you'll want to look into an outside service. Once again, there are a few choices. One choice involves you shredding the paper and then they collect it, the other option requires a bit more trust on your part. For the second option, you collect the confidential papers to be recycled, and the service will shred the papers.
When looking to an outside service to handle confidential information, it's vital that you do the background research. Seek out other businesses who hire outside for recycling services. What company do they use? Are they happy with the service they receive? How is confidential information handled by that service? When using an outside service, you need to do the background work to ensure they will keep your information confidential.
This also is going to largely depend upon what is available in your locality. As with your local recycling center, you will need to determine what materials they will accept and what they will not accept. Some places will ask that you separate colored and white sheets of paper, others will take all of your paper so long as you use the receptacle they provide you with.
Once one of these services pick up the goods to be recycled, they will often dispose of the information within 24 hours. If you run a busy office, you will definitely want to take advantage of a service that comes to you to pick up your materials.
While the materials are waiting to be picked up, it is important that you maintain security. Depending on the service, you may want to keep the confidential recycling in a place with limited access. Schedule your pickups based upon the amount of confidential recycling you will need. If you clean out private files every six months, you may not need the services on a regular basis. On the other hand, if you deal with confidential paper waste on a daily basis, you may wish to have a daily – or at least weekly – service to avoid accumulation.
Outside the Box Recommendation: Go Paperless!
If you find that your office contains an inordinate amount of paperwork with private information on it that does not require long-term storage, you may wish to think about going paperless. By going paperless in your office, you can quickly dispose of confidential information with the click of a mouse button. For things you would otherwise print out to take on the go, there are a few options. You might transfer that information onto a tablet PC or a PDA.
When you're willing to find a solution to fight the paper demon in your office – and protect the privacy of customers, clients, and your financial data – you'll find that a little commitment goes a long way. With the advent of green technology, and advances in products for scanning and retaining confidential information electronically, the need to print such information for reference is lessened. While confidential paper recycling is always important and a good thing to do, as a long-term solution, don't be afraid to look into paperless office solutions in order to largely eliminate the need for paper copies of such information.
References:
Ecocycle.org https://www.ecocycle.org/faq/shred.cfm
Recycling Services https://www.recyclingservices.com/commercial
Image courtesy of sxc.hu/gallery/sundstrom