Modular Data Centers Advantages: New Mobile Data Trailers Help Save Energy and Space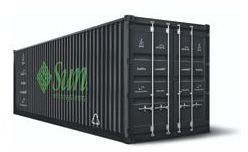 Modular Data Center Technology
A data center is comprised of a storage facility used to house computer systems and their integrated components. It also includes back-up power sources, redundant data connections and climate controls such as fire suppression and cooling systems. Traditional data centers are power guzzlers which makes them increasingly costly to run.
But this may not be a problems for too much longer thanks to the advent of modular data solutions. Modular data centers are set to dramatically change the way that large data centers are built and run. Advocates claim that replacing permanent racks of servers with data systems built into large shipping containers or trailers that can be instantly installed into buildings, making it simpler and more cost effective than ever to set up a data center and to upgrade incrementally as demands grow. This new storage solution could also initiate an expansion of cloud computing technologies.
Modular Data Center Advantages
There are numerous advantages of using modular data solutions:
Energy efficiency: modular data solutions can reduce energy costs by up to 40% or more due to advanced design and upgraded cooling infrastructures as well as controlled power management.

Speed: Most modular data centers can provide up to 10% faster deployment.

Flexibility: Modular data centers are fully mobile, which means they can be deployed from other geographical locations without causing inconvenience.

Adaptability; Modular data systems can be upgraded incrementally as and when needed.

Economical: Modular data systems have around 1/100 of the initial outlay cost of traditional data systems.

Space-saving: Modular data systems take up less room at 1/5 of the cost of traditional systems and have around four times greater density per rack.

Security: virtualization reduces security risks.
There is a number of modular data centers currently available including:
· Ice Cube Modular Data Center
· IBM Scalable Modular Data Center