Philips GoGear Spark Review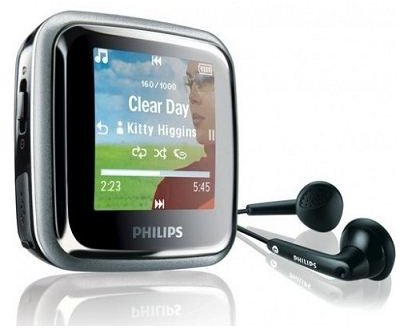 Philips has never been the leader in MP3 players and multimedia devices; that honor has always been taken by Cowon, Archos, and Samsung, among others. Philips has been churning out quite a few good devices lately, with good features and stylish designs. The Philips GoGear Spark is one of them. It is a DAP (digital audio player) which sports a stylish design, a nice list of features and compact form factor.
Philips GoGear Spark Specifications
Capacities: 2 GB
Screen: 1.5 inch color OLED display, 128 x 128 pixels
Size: 43 x 43 x 14 mm
Weight: 35 gms
Audio formats: MP3, WMA, WAV
Transfer Modes: MTP
Connectivity: MiniUSB
Features: Full Sound, Equalizer, FM Radio, Sleep timer, Personalization
Battery Life: 27 hours
Price: $49 (2 GB)
Design (4 out of 5)
The Philips GoGear Spark has a nice stylish design which looks really cute with a small 1.5 inch color OLED display on top. It has dimensions of 43 x 43 x 14 mm and weighs just about 35 gms which makes it one of the most compact MP3 players with a display. The cute little form factor will really appeal to the fairer sex and teenagers. It looks much better than the boxy budget DAPs with uninspiring designs. The build quality is good and the body is durable.
The player controls are spread around the OLED display. The front face acts as a D pad using which you can control the music playback. The right side has the volume keys and the mic, while the left side sports the power switch and a USB port. The 3.5 mm audio jack and the option button are on the top.
Features (4 out of 5)
The Philips GoGear Spark has a nice intuitive UI which is easy to understand and visually appealing. It has nice animations. You can browse through your music files, images, recordings, folders, and settings easily using the controls on the front face. You can browse your music by artist, album, genre, and create playlists. The interface is fast and responsive and has little to no lag. You can view every file on the player using the Folder view and also use the player as a portable storage device. You can change tracks, play / pause, browse music using the controls on the front face.
The Philips GoGear Spark supports personalization and allows you to change the theme, wallpaper, screen saver, etc. You can set the screensaver to display the time, song title, album art or even a slideshow. It also allows you to modify settings like language, date and time, display settings, equalizer settings and the sleep timer through the Settings menu.
It has a built in FM radio which offers nice sound reception. It also has a voice recorder built in which is quite usable. It supports the MP3, WMA and WAV formats as well as Audible and Rhapsody. The Philips GoGear Spark can be connected to your computer to transfer music and other files. It supports only the MTP profile so you can transfer files only on Windows PCs.
Performance (4 out of 5)
The Philips GoGear Spark performs quite well when it comes to audio playback. It comes with the Full Sound technology which enhances the audio quality greatly. It also has an equalizer which you can use as per your liking. You can use your own high-end headphones instead of the bundled earbuds for even better audio quality.
It has a rated battery life of 27 hours, which is really awesome.
Conclusion (4 out of 5)
The Philips GoGear Spark is a nice option if you want a compact audio player with a display. It is priced reasonably well at $49 for the 2 GB version and $59 for the 4 GB version. It is much better than the iPod Shuffle.