Introduction
The Cowon iAudio 9 is a durable media player, housed in hard matte plastic. It is a beautifully designed multimedia player that features a uniquely created, easy-to-use user interface, a bright 2" screen and all things that make a media player fun. The iAudio 9 can play music, videos and it can also record voice, read text, and play radio.
Cowon is a reputed Korean company specializing in digital video, audio software and hardware. It makes quality media players, and iAudio 9 is one of them and also one of the best. There is a review of another nice media player by Cowon on Brighthub, called Cowon S9; if you're interested, you can read its review here.
The Cowon iAudio 9 is available at amazon.com and sells at US $116.99 for 8GB, and US $51.59 for 16GB.
Specifications
Weight: 40 grams
Dimensions: 43mm x 95mm x 9mm
Screen: 2 inch, 320 x 240 colors, 262k colors
Main features: Audio, video playback, FM radio, voice recording, text reading
Audio, video formats: WMA, WAV, MP3, OGG, FLAC, WMV, XviD
Battery life: 7 hours video playback, 29 hours for audio playback.
Design & User Interface (5 out of 5)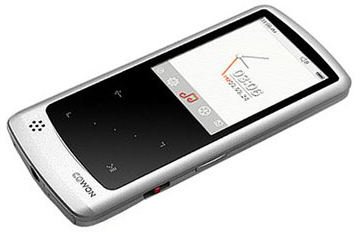 The iAudio 9 is a high quality and impressive multimedia player. It is housed in a durable matte plastic covering that doesn't catch fingerprints and feels nice in the hands. Cowon iAudio 9 is available in white and black colors but I like the white model more because it looks brighter and more elegant. The build and feel of Cowon iAudio 9 is sturdy and sleek when you take it in your hand, you feel like you're holding an expensive electronic. The device weighs 40 grams and because it is pocket-sized, it is very good for portable use.
The iAudio 9 features a 2-inch 320×240 LCD screen, which is bright enough and manages 262000 colors. The bottom half of the player has a touch control panel. It houses a sliding control, play/pause, navigation, music and back buttons. The left of the player houses a volume up/down button and the power and menu buttons sits on the right.
Navigation on this player is very easy. To play music, you simply have to select a music folder and the player will play your songs from there. If you want to play only specific songs, you can select the songs you want to play and only those will play.
image credit: technotalks.com
Features (5 out of 5)
Many user reviews suggest that the iAudio 9 is more grown-up than iPod Nano in terms of functionality and performance. It might be true as you will notice that this portable music gadget offers plenty of features that all music enthusiasts need.
The device supports a wide range of audio and video formats including WMV, MP3, FLAC, OGG, XviD and WAV. The player comes with many audio enhancement features like BBE, MP3 Enhance, 3D Surround, Mach3Bass, Jet Audio 3.0 and a 5-band equalizer. The equalizer is very customizable so with little tweaks you can get your desired sound effect and volume. The player features a tiny sized speaker, which isn't powerful so using ear or headphones is recommended to get most of the player.
Cowon iAudio 9 Features (5 out of 5)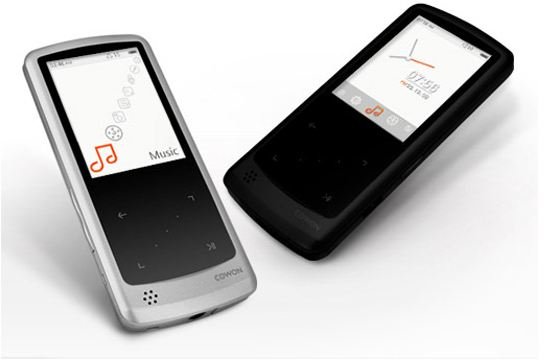 The iAudio 9 is also a voice recorder. .So if you want to record your voice or class lecture, this feature a great thing to have in your MP3 player. The recordings are saved in 32 and 256 kbps WMA formats and can easily be downloaded to a computer. The player comes in 8 and 16 GB storage capacities and you can not extend the memory with a Flash memory card.
The iAudio 9 lets you watch videos on your TV via the provided TV-output jack. No cable is provided in the package so you will need to buy one separately. If you want to do eBook reading on iAudio 9, you can do it. Text files that are in .txt format are readable on the iAudio 9 player. You can change the text and background colors, as well as font size to suit your needs. The bookmark feature is also present, and it's quite handy as it allows you to quickly navigate to your favorite files.
Unlike many other media players, the iAudio 9 supports Flash apps and games. There are a lot of apps and games out there, and most of the apps and games that run on other models of Cowon players also run on iAudio 9. If you want to listen to the radio, it is also present in the device. The radio can scan the available channels and you can then select which one you want to listen. FM transmission can also be recorded, and these are saved in the WMA format.
image credit: reghardware.com
Performance (5 out of 5)
The video playback on Cowon iAudio 9 looks great but because the screen is not very wide, and resolution is not very high, you will not enjoy the videos enough. The sound quality of the player is excellent and you really enjoy listening to the songs on this player. The sound produced is well balanced, clear and you will want that you keep listening to the music on this player. When you tweak the equalizer and turn on the BBE feature, the sound quality becomes even better. FM radio offers very good reception, and the menu system responds quickly to the user commands. User reviews suggest that iAudio 9 has a battery life of up to 7 hours for video playback and up to 29 hours for audio playback.
Verdict (5 out of 5)
The Cowon iAudio 9 is a lightweight, durable, slim and feature-rich media player. It has a very easy-to-follow user interface, and is very responsive. The device offers everything anyone can expect from a good media player like great sound, radio, voice recorder, text reader, etc. The player's performance is excellent, the screen is a bit small for video viewing, but is good enough for watching small video clips.