iHome iH15 LED Color-Changing Speaker System with Built-In Subwoofer for iPod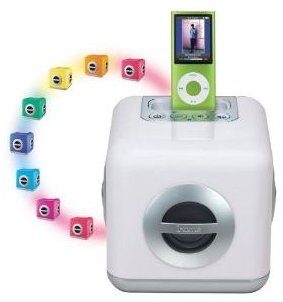 A $50.29 genius of a party music player that supports most iPhone and iPod models with a universal dock connector. The translucent cabinet changes color at the touch of a button and has four color change settings; solid color of your choice, revolving colors, changing every few seconds and a constantly oozing through the whole spectrum. Again this is perfect for a party sound system or a mood room (think Austin Powers). It charges your iPod while it's docked, has a Reson8 stereo speakers with passive subwoofer for crisp, full sound. The auxiliary input supports other external speakers. All this in a 5.5-inch cube with handy carrying handles.
Bose SoundDock Series II digital music system for iPod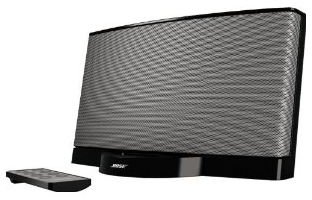 The name Bose is synonymous with quality audio systems. The SoundDock is no exception. The $269.00 price is well under what you'd expect to pay for such an amazing system. It is compatible with the iPhone, iPod Touch, and any other iPod with a click wheel. The auxiliary port lets you play an additional sound source, like a portable DVD, CD or other MP3 player. Bose digital signal processing circuitry also enables finer control over sound for more consistent, lifelike music reproduction even at low volume levels. This is the audiophiles dream. You will probably never find a more deserving match in an iPod stereo accessory.
Creative Labs ZiiSound D5 Bluetooth Wireless Multimedia Speaker System for iPod and iPhone 3G and 3GS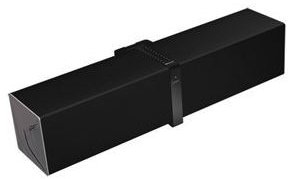 Creative Labs is known for quality audio solutions so it comes as no surprise that they are one of my picks for best Bluetooth iPod accessories for the home. At a very reasonable $252.47, the ZiiSound D5 is capable of amazing, audiophile caliber sound, while charging your iPod. Easily pair the ZiiSound D5 with any Bluetooth-enabled iPod and wirelessly stream music from up to 33 feet away.
The sleek, compact, contemporary design is only outdone by the components that it houses; integrated bass port, apt-X audio codec technology, high-performance 2.75-inch full-range drivers and efficient digital amplifiers all together create a formidable sound that fills the room. Take this one out for a spin, you won't be disappointed.
Bose SoundDock 10 Bluetooth dock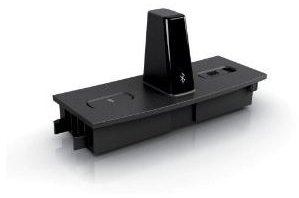 Bose makes such a great quality product that I couldn't help but put a second stereo dock on the list. The Bose SoundDock 10 Bluetooth docking system retails $149.95. Again, this is a Bose system we're talking about here, not some second rate wannabe system. Let's be clear that this is just the docking system that attaches to the SoundDock system. As far as iPod stereo accessories go this one is top of the line.
This custom dock lets you easily play your stereo Bluetooth music through your SoundDock 10 system. Just snap the dock into place. Bluetooth wireless technology lets you keep your iPod with you as you listen.
Harman Kardon Soundsticks III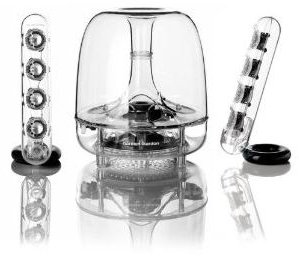 This is the coolest looking iPod stereo accessory on the market today. It looks like it could've been left behind by a UFO. For sheer presence these speakers get a resounding ten. The Harmon Kardon Soundsticks III are in the permanent collection at New York City's Museum of Modern Art (MoMA). At $159.99 this piece doubles as artwork for your entertainment system. The best thing about these speakers is that they sound just as good as they look! The Harmon Kardon features outstanding bass performance, a touch volume and mute control, independent subwoofer volume control and angle-adjustable satellite speakers. If you give these as a gift they'll be the talk of Christmas this year.