Introduction
Which iPod games are the best is subjective and the opinions of iPod owners around the globe will vary to some degree. That being said, there are iPod games out there that most hardcore iPod gaming fans can agree on as being some of the best games created for the iPod platform. Here we take a look at what I feel should be included in that list.
Angry Birds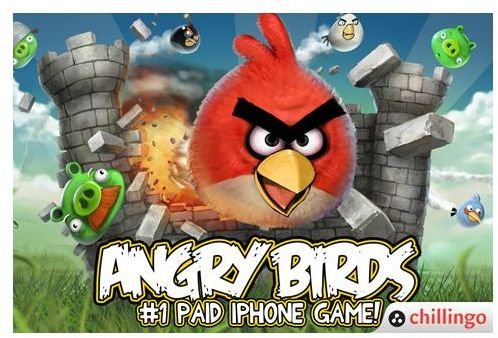 Who could resist a game where you get to shoot angry birds at pigs using a slingshot? Angry Birds is a riot. It is seriously funny and does not lose its appeal in just a few hours as many similar concept games do. This game is addictive, challenging and wonderfully clever. You are missing out if you haven't already joined the Angry Birds revolution!
Price: FREE
(Image: https://a5.mzstatic.com/us/r1000/030/Purple/45/28/f7/mzl.yagtukvx.320×480-75.jpg)
Tap Tap Series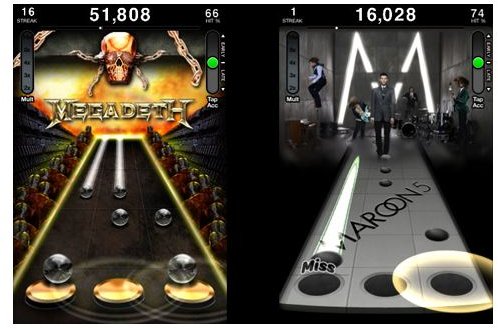 Before Angry Birds, there was the Tap Tap series of games. While Angry Birds has come close to surpassing it in popularity, the Tap Tap series of games are still extremely popular. In the tradition of Guitar Hero and Rock Band on our beloved gaming consoles, the Tap Tap series of games brings music, head banging and rock & roll to your iPod.
Price: $1.99
(Image: https://a1.mzstatic.com/us/r1000/000/Purple/f9/13/58/mzl.maxidnbw.320×480-75.jpg)
Rolando and Rolando 2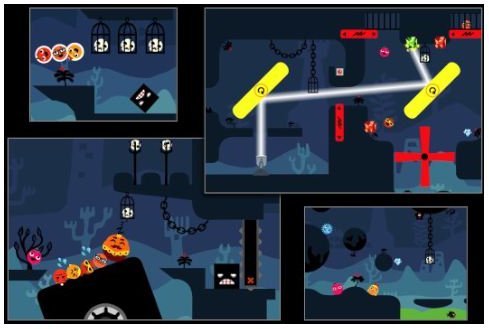 Help various "Rolandos" navigate their way through Rolandoland to save the world from an invasion of the fearsome shadow creatures. Navigate in Rolando by tilting your device from side to side, making use of various "special items" to increase your chances of avoiding the shadow creatures and saving the world. This is a highly addictive game. When you are finished with the original Rolando, don't fret. Rolando 2: Quest for the Golden Orchid is the sequel and is as addictive as the original.
Price: $0.99
(Image: https://a3.mzstatic.com/us/r1000/022/Purple/69/cc/a4/mzl.sywouqid.320×480-75.jpg)
Osmos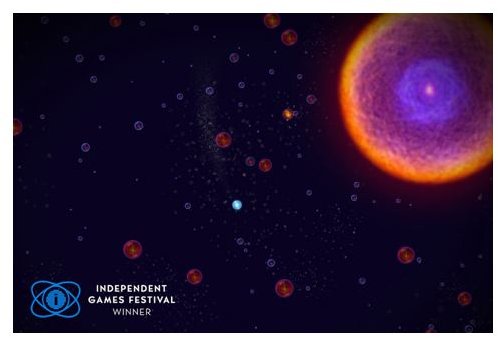 Osmos is just what it sounds like. Your goal in this game is to absorb other smaller "motes" while avoiding larger ones, as colliding with them will result in a game over. There are three different zones of levels: sentient, ambient and force. Each offers different goals and provides new challenges. Osmos is good for hours of uninterrupted fun and well worth the price to download.
Price: $2.99
(Image: https://a1.mzstatic.com/us/r1000/003/Purple/d4/37/28/mzl.jypezstp.320×480-75.jpg)
JellyCar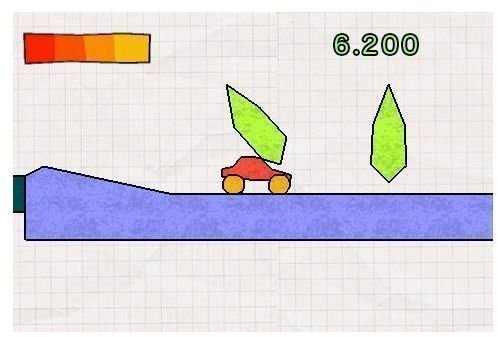 JellyCar, now in its third version, is a unique and entertaining game that uses soft body physics to give it its unique feel. Your goal in JellyCar is to navigate your car through a 2-D world avoiding various obstacles while using accelerometers to boost your speed as you go. Accelerate your JellyCar by tapping and holding your finger on either side of the screen. Navigation through this virtual 2-D world can prove quite the challenge.
Price: $0.99
(Image: https://a5.mzstatic.com/us/r1000/001/Purple/96/14/b5/mzl.qdequdow.320×480-75.jpg)
Touchgrind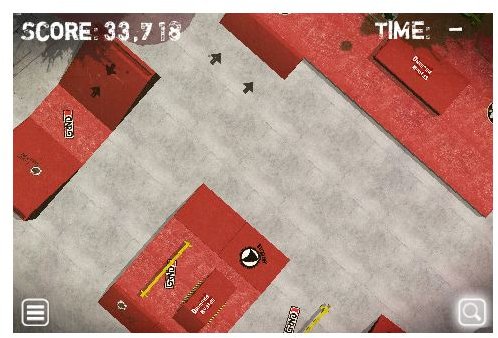 Touchgrind is a skateboard emulation game. Your goal, should you choose to accept it, is to skate, unlock new decks and wreak havoc on society. This game has a great interface that improves the gameplay. If you are a fan of skateboarding, this is the game for you.
Price: $4.99
(Image: https://a1.mzstatic.com/us/r1000/006/Purple/d5/bd/1a/mzl.vsohvxxc.320×480-75.jpg)
Doodle Jump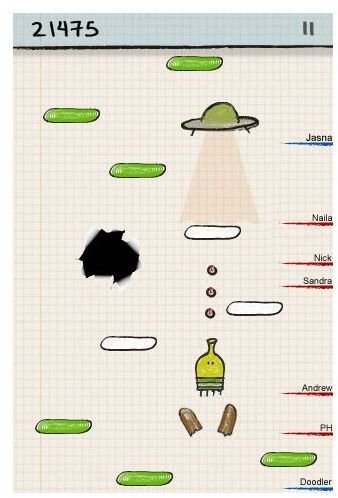 Doodle Jump is good for hours of entertainment. Guide your "Doodler" up an infinite series of platforms without falling. Control your Doodler by tilting your iPod or iPhone in the direction you want it to move, but be careful. The greater the tilt of your device the faster your Doodler moves.
Price:$0.99
(Image: https://a5.mzstatic.com/us/r1000/003/Purple/5b/c4/38/mzl.izxwpzlr.320×480-75.jpg)
Cut the Rope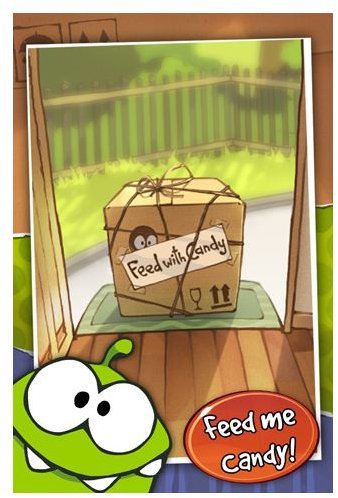 Cut the Rope is another physics-based game for the iPod or iPhone platform. In Cut the Rope, your goal is to guide a piece of candy into the mouth of Om Nom, a cartoon monster. The Cut the Rope name comes from the fact that the candy is in bags that hang from ropes that you must cut with a swipe of your finger on the screen. All this and much more make this an excellent game for the iOS platform.
Price:$0.99
(Image: https://a2.mzstatic.com/us/r1000/039/Purple/b7/05/79/mzl.fkdfrlpg.320×480-75.jpg)
Bejeweled 2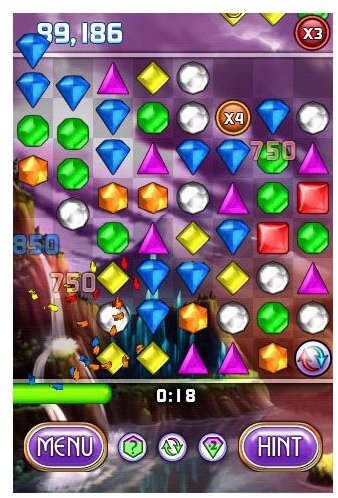 Bejeweled is a puzzle game designed and released by PopCap games. The object of Bejeweled is to swap one gem with another to form a vertical or horizontal line of three or more gems. For such a simple concept, this game is extremely challenging, addicting and one of the more popular games for the iOS platform.
Price:$0.99
(Image: https://a3.mzstatic.com/us/r1000/022/Purple/fc/70/b7/mzl.fwxobdot.320×480-75.jpg)
Classic: Pac-Man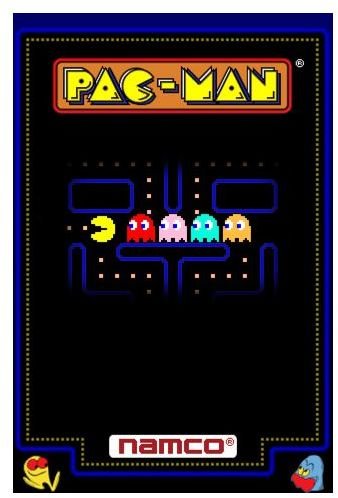 We could create a "best of" type list of games for the iPod without mentioning the granddaddy of them all. Pac-Man for the iPod is just as fun and addictive as the original arcade version and should be one of the first games you download for your iPod. Throughout history, Pac-Man has provided young and old alike with hours of entertainment and nothing has changed since its first release some 30+ years ago.
Price: $4.99
(Image: https://a5.mzstatic.com/us/r1000/022/Purple/5f/f9/a4/mzl.bdbidosv.320×480-75.jpg)
Do you have a game you think should be included on our "Best iPod Games of All Time" list? Share your thoughts with our readers in the comments section below…
References and Resources
Author's own experience.
https://www.rovio.com/index.php?page=angry-birds
https://tapulous.com/taptap2/
https://rolando2.ngmoco.com/
https://www.hemispheregames.com/osmos/
https://itunes.apple.com/us/app/jellycar-3/id405534840?mt=8&ign-mpt=uo%3D4
https://itunes.apple.com/us/app/touchgrind/id297694601?mt=8&ign-mpt=uo%3D4
https://itunes.apple.com/us/app/doodle-jump-be-warned-insanely/id307727765?mt=8&ign-mpt=uo%3D4
https://itunes.apple.com/us/app/cut-the-rope/id380293530?mt=8&ign-mpt=uo%3D4
https://itunes.apple.com/us/app/bejeweled-2-blitz/id284832142?mt=8&ign-mpt=uo%3D4
https://itunes.apple.com/us/app/pac-man/id281656475?mt=8&ign-mpt=uo%3D4