RCA M4508
The first one in my list of best RCA MP3 players is the RCA M4508. It is a stylish and slim MP3 player. It has a sleek body and smooth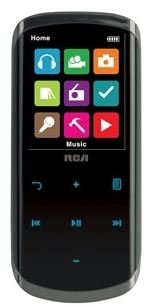 curved corners. The player is lightweight and easily fits in a trouser or shirt's pocket. It has a 1.8-inch display and the user interface is very colorful and bright. The menu items appear as square images, in red, pink, blue, green and purple colors. The touch control panel is comfortable to use, and houses stop, play/pause, forward, rewind, back, and menu shortcut buttons.
The RCA M4508 has a built-in 8GB flash memory, which is large enough to store approximately 2000 songs. The device can also play videos. The audio and video formats it supports are WMA, MP3, DRM9, AAC and iTunes. If you have a file in some other format, you can covert it into a supportable format by using the provided easyRip software. The player is also compatible with most subscription and download services, so you can find a song using these services and download directly to the player. A USB connector is provided on the device so you can easily transfer media files from and to your computer. The player also has a voice recorder, an FM radio, and image playback support.
The RCA M4508 uses a good rechargeable battery. It offers up to 5 hours of video playback and 20 hours of music playback. The overall performance of this player is very good. User reviews suggest that the audio sounds loud and clear. This is a nice player with different looks and good set of features. It is available at amazon.com, for $47.49.
Image Credit: pcdistrict.com
RCA Lyra RD2217
The RCA Lyra RD2217 media player is a very good choice for bikers, walkers and cyclists. The player has a sporty design, and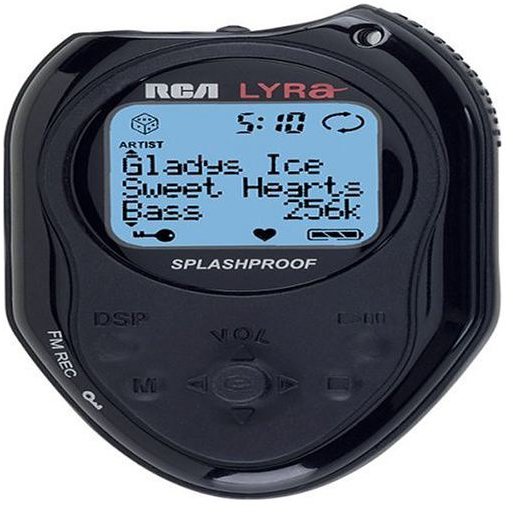 comes with an attached armband, leaving your hands free for your sport activities. The device weighs 1.4 ounces and is small in size. It features a pulse meter, a calorie counter beside audio support. The display is amber-colored, not fancy but the text is very readable even in sunlight. There is a 512MB built-in memory in the player, enough to store 8 hours of music. The player plays MP3 and WMA files and has the ability to arrange the music files into folders easily.
FM tuner is also present so you can enjoy radio when you get bored of the loaded music. The battery life is excellent. You can listen to music continuously for 47 hours on a full charge. The device has a five-way joystick on front, which is used to access all the functions. Performance wise this product is very good. The audio is clear and loud so you can easily listen to the music while performing your workouts. The RCA Lyra RD2217 is a nice music player, with great battery life. It is specially made for walkers, joggers, bikers and cyclists and is comfortable to wear. It is available at amazon.com, for $49.99.
Image Credit: gazaro.com
RCA S2001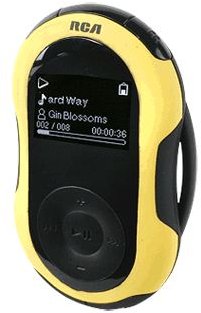 The RCA S2001 is another MP3 player for sport use. It is very durable, has compact size and comes with a wristband, armband and clip-on earphones. The device is easy to wear and has strong grip so as to enable you to carry out your sports activities i.e jogging, cycling, swimming etc.
The player has monochrome OLED screen. It displays white text on black background. Below the screen is a five-way control pad for accessing the device's functions. A USB interface is provided on the player, for transferring music from a computer with ease. Besides audio player, the device also features FM radio, BMI calculator and stop watch. Sound quality of this MP3 player is very good. The battery life is 15 hours, not excellent but maybe enough for most sporters. The RCA S2001 is available on ebay.com, and you can buy one for $ 20.03.
Image Credit: dodevice.com
RCA M2204RD
The RCA M2204RD is a smooth rectangular shaped MP3 player. It has a sleek design and efficient functioning. The device looks very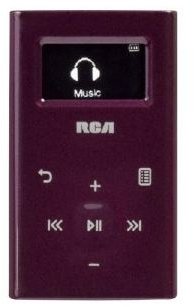 basic but it is not. The sound quality is very good and it doesn't distort at full volume. The touch control navigation is same as RCA M4508 (the first player in the list); contains all the buttons required to fully operate the device. Easy to use software comes preinstalled on the device for managing your music library, playlists and it also converts music files into supportable formats. The audio player supports AAC, DRM, WMA, MP3 and DRM9 file formats. The built in 4GB memory allows you to store up to 1200 songs and a USB connection is there to easily and quickly transfer the files.
The player has a mono LCD with color backlight. The text doesn't look very clear or bright but is not bad either. In addition to the audio player, the device also has a voice recording feature. The battery life of RCA M2204RD is good. It offers up to 15 hours of audio playback on a single charge. RCA M2204RD is available at amazon.com, for $28.95
Image Credit: compsource.com
RCA M4602R
The RCA M4602R is a very nicely designed, stylish MP3 player. It has better looks that other RCA MP3 players and looks very colorful. It has curved corners, smooth body and a very good choice for kids. The audio player supports AAC, DRM, WMA and MP3 format files and is also compatible with Amazon MP3, eMusic and iTunes Plus. The device is also compatible with many subscription services like Napster and Rhapsody. FM radio is also present on the player and it has 20 preset stations. For music transfer from or to your PC, a USB interface is provided. The player comes with a USB cable, earphones and preinstall easyRip software.
The RCA M4602R has a 1.8 inch display with full-color graphics. The touch screen navigation allows you to access all of the device's features and functions. You can also create playlists and manage your media library with built-in software. Besides audio, the device also playbacks pictures and videos. Storage capacity of the device is not mentioned on the vendor's website but it does say that RCA M4602R can store up to 600 songs. The battery life is impressive. You will get 30 hours of continuous use. This is a very nice player. It is not available at amazon.com yet but you can buy one directly from the vendor.
Conclusion
These were some of the best RCA MP3 players. In these RCA MP3 player reviews we looked at design, specs and features of some of the RCA MP3 players. Have you got any of these players? How has your experience been with it? Any pros or cons? Please leave a comment below, letting us know what you think about this RCA MP3 player.