Sharp Aquos LCD TV Review - LC32D44U Model
Attractiveness and Extras (4 out of 5)
The Sharp Aquos LC32D44U 32-inch 720p LCD HD flat screen television is relatively cheap at $500. Plus, it's quite attractive with the Sharp D44U Series cabinet, which can be pretty easy to remove if you're planning on mounting this flat screen television on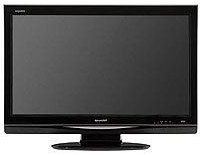 your living room wall. This HD television weighs 28.9 pounds and is 9.1 X 30.6 X 22.6 inches.
Despite the lower price, this LCD television still has 2 HDMI ports and a PC input. The PC inputs are quite handy for showing pictures or video to the whole family since you can also use it as a computer monitor.
Features (4 out of 5)
The viewing angle is 176 degrees wide. This is pretty important, especially if you plan on having seating that is to the side. Wide viewing angles ensure that your picture is clear no matter the angle from which you are viewing it.
Another nice feature of this television is that it's pretty fast with a 6ms response time. If you like to watch fast-paced events like sports, you need a television with a higher response time so that your picture doesn't blur.
For the price range, the contrast rate is pretty high at 7500:1, which will help make your colors seem more natural. The blacks of this television are true black and don't look blue at all. Also, the picture on the LC32D44U seems to be just about right. It's not too bright or dark. If you are worried about missing something that lies in the darker color range, set your flat screen television to Active Contrast. It will keep the picture from blotting out deeper or darker colors.
This flat screen television has a pretty good speaker system, especially for a cheaper television. Your audio can be adjusted to mono, stereo or surround sound if it's available in your area. There's also the option of buying additional surround sound speakers. Since the television is so inexpensive, investing in an updated speaker system won't break your bank account.
Menu System and Remote Control (3 out of 5)
While you'll definitely catch onto the menu system in a few minutes, the remote control may take a little bit more time. Unlike most remotes where you can point it almost anywhere and something will happen, this remote has to be pointed nearly directly at the LCD TV. So, if you're sitting on a seat that's a little off-center, this may mean that you will have to hop up to change the channel. Plus, the remote control is also a little slow on the response time.
Bang for the Buck (5 out of 5)
But, overall, the Sharp Aquos LC32D44U LCD TV is really inexpensive, but comes with a lot of the features that you would want from any flat screen television, including clear, natural, crisp pictures. It has the two HDMI ports and PC input, which allows you to attach multiple devices. So, for the price and quality, it's hard to beat Sharp Aquos LC32D44U, especially if you're shopping for a flat screen TV on a budget.