Vizio 42″ LCD HDTV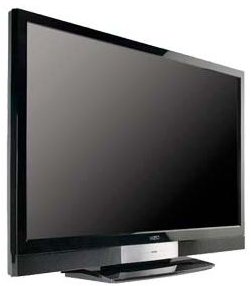 HDTV technology has transformed the home television viewing experience completely. The new generation of HDTVs are shattering the mold of traditional HDTVs with advanced, cutting edge HDTV technologies. The Vizio SV421XVT 42-inch XVT-Series 240 Hz SPS HDTV also belongs to this newest range of LCD HDTVs. This Vizio 42" 240 Hz 1080p LCD HDTV review evaluates the product features and technical standards of this model closely. The model offers 1080p full high definition resolution, a contrast ratio of 50,000:1 and superior sound technology. The Vizio XVT-series technology offers an overall exciting viewing experience, and the Vizio 42-inch LCD HDTV is a product of that same technology.
Photo Credit: Amazon
Product Design and Features (4 out of 5)
This Vizio 42" HDTV model is sleek and stylishly designed. It features two 15-watt speakers that can deliver full room-filling sound. The model is designed to browse and play back video, audio, and images from various USB devices. The remote control is stylish and full-function. The design features a horizontal viewing angle of up to 178 degrees, which ensures sharp picture viewing from virtually any part of the room.
The product also includes several USB multi-media features. The user can plug portable hard drives, flash thumb drives or other USB devices to enhance the digital multi-media experience. Vizio SV421XVT supports wmv, avi, mpg, mpeg, asf, mp4, mov, and vob formats for video, and mp3 format for audio. For images it supports jpg and jpeg formats. The user can browse through video content in a suitable picture mode. When the TV is in music mode, the screen goes dark to conserve energy. Image slide shows can be viewed along with background music.
Vizio 42″ 240 Hz 1080p LCD HDTV Review of Technical Details (3 out of 5)
The Vizio 42" LCD HDTV features full 1080p high-definition resolution that delivers more than two million pixels to ensure brilliant picture clarity and sharpness. 240Hz SPS are geared to deliver 240 scenes per second, which is a superior frame rate to ensure clear and blur-free picture for fast action scenes. The product is environment friendly with ECO HD which surpasses the current Energy Star guidelines by 15 percent. It also saves money on the energy bills for the user.
The dynamic contrast ratio of 50,000:1 delivers rich blacks and more optical whites. SRS TruSurround HD provides immense surround sound in virtual high definition. SRS TruVolume removes irregularities of volume between programming. The image aspect ratio of the model is 16:9. Display size of this HDTV is 42.02 inches diagonally.
Value for Money (4 out of 5)
Considering the average price of good 42-inch LCD HDTVs in the market, the Vizio SV421XVT is competitively priced. Most buyers find good value for money in this product, and the average customer rating of this model at Amazon is 4.2 stars out of 5. The company offers a one-year warranty with this product. Amazon is selling this model at a discounted price of $649. The offer comes with a TV Low Price Guarantee, Free Super Saver Shipping, and free 30-day TV returns.