The Panasonic VIERA TC-P54VT25 54-inch 1080p 3D Plasma HDTV has, hands down, the best picture I have ever seen in a 3D television. When I saw it next to some of the new Samsung, Sony and Toshiba models the difference in color quality was immediately apparent. The colors jumped off the screen and at moments of high action (I was watching the Lions lose to the Bears) there was absolutely no blurring on the plasma display.
Commercial Specs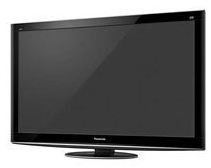 For $2,295 this might be the best deal in the entire home theater arena. The Viera is THX Certified with a 54 1/8-inch plasma HDTV panel and full 1080p HD resolution in a 16:9 aspect ratio. The full HD 3D system sends a separate 1920 x 1080 full-HD image to each eye (unlike other sets that send a single signal), for sharp, crisp 3D images. The infinite black panel pro integrated field includes new phosphor technology for deep blacks and vivid images eliminating most, if not all, reflections. The Viera also offers internet TV services including Netflix (for streaming movies) and Skype (for full screen digital communication) with wired or wireless LAN connection.
The LAN ports are just part of the impressive input output system. There are also 3 HDMI inputs, 2 composite ports with audio, 2 component ports with audio, 1 analog audio input, 1 PC input and a USB port.
Amazing Quality
The amazing quality of the 3D picture in the Viera is achieved by pairing the 3D TV with a special set of glasses. The plasma display panel was advanced to allow images for each of the left and right eyes to be alternately reproduced at the rate of 60 frames per second (fps), making a total fps for both eyes of 120. Viewers watch the images through high-precision 3D Eyewear, which open and close the left and right shutters in synchronization with the alternating images. As a result, a separate 1920 x 1080 full-HD image is sent to each eye. This addresses the image quality problems and blurring that were common to previous 3D systems, and creates sharp, crisp 3D images. Although this means a special pair of glasses is needed to watch the set it is well worth it.
The 3D is absolutely awesome. It doesn't suffer from the artificial look of some LED TVs, the depth seems more "natural" – more like what you would see with your own eyes. It also doesn't suffer the ghosting effect that some 3D TVs have when you are in motion. Some sets require you to sit completely still but with this one you can more freely – even to some extreme viewing angles without losing the 3D effect or any of the color quality. This really is a top of the line set. Also this 3D TV doesn't have that annoying buzz that is sometimes present in Plasma screen TVs (at least not that I could notice), the sound is remarkable, so good that you may not even need a home theater speaker system.
Any Hesitation?
Really the only negative thing about this Panasonic 3D TV is setting it up. At four feet by two and a half feet and 70 pounds, it is large, awkward and will probably require two people to set up (I would suggest having the delivery guys do it for a handsome tip).