What is Blu-ray Technology?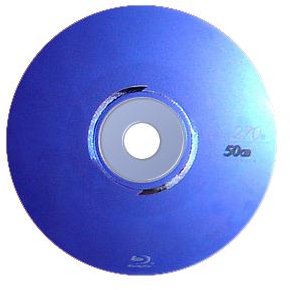 As people are upgrading to HDTV to enjoy the benefits of digital television (DTV), the importance of high resolution content is also increasing. Blu-ray technology is designed to increase storage capacity and of course the quality of video. It uses the same MPEG-2 contraction standard as in DTV, and is highly compatible to meet the global standards for digital broadcasting. To handle the increased amount of data required for maintaining the high quality picture, Blu-ray has a 36 MBPS of data transfer rate. This is more than sufficient to maintain the standards of high definition audio and playback while also maintaining the original picture quality.
Blu-ray disc recordable refers to two different optical disc formats that can be recorded with an optical disc recorder. BD-R disc can be written only once. BD-RE is a rewritable disc. Disc capacities are 25GB and for double layered it is 50GB. There are different versions of BD-R disc and BD-RE disc.
BD-R version 1.2 features an organic dye recording layer. This feature is commonly known as BD-R LTH. It protects the manufacturer's investment in DVD-R /CD-R manufacturing equipment. It requires modification to current equipment rather than investment in whole new production lines. It is assumed that this can help in reducing the cost of discs.
BD-RE has 3 versions:
Version 1: Has a unique BD file system but it is not compatible with computers.
Version 2: Has a Universal Disk Format (UDF) specification that helps in storage on optical devices. It has a special feature called Advanced Access Content System (AACS), which helps in restricting the access to and copying of optical devices and DVD's.
Version 3: In the new version, camcorder disc 8cm is included. This version is compatible with version 2. BD-R Version 2 also follows the same specification.
Blu-ray Camcorders
While a full HD video comes in 1920 x 1080 format, a normal camcorder is capable of recording just 720 x 480/576 footage. You can imagine the difference in the resolution and clarity of video that comes in HD video. In addition, with Blu-ray camcorders, you can fully utilize an optical disc's random access features by playing back pre-recorded video on disc while simultaneously recording a high definition video.
Blu-Ray Technology in Camcorders
The Blu-ray camcorder is another innovation in the line of Blu-ray disc dubbing devices. Blu-ray camcorders have an edge over normal camcorders when it comes to features. They have a very stylish and unique appearance. Smooth edges and light weight design makes them convenient to use.
The most important component of such camcorders is Blu-ray. They have a built in Hard Disk Drive, which allows them to store more than 30 GB of data. You can record around four hours of 1920 x 1080 resolution footage or eight hours of 1440 x 1080 high definition video in HS mode. There are varieties of other functions involved apart from delete, editing, dubbing, connect, and split etc.
The Blu-ray camcorders can directly record data onto Blu-ray discs. This helps people record more video without worrying about space constraints. Blu-ray camcorders support standard Blu-ray discs with single or dual layers. They also feature 5MP CMOS sensors to ensure that picture and video quality is truly HD.
Most camcorders have an easy, One-Touch dubbing feature wherein users can immediately burn full movies saved on hard disk to Blu-ray discs. They also have a built in guide, which helps teach individuals how to use the camcorder.
There are certain good models that come with Blu-ray disc dubbing features. Some of them are Canon VIXIA HF 200 SD/SDHC HD Camcorder, Sony Handycam HDR XR500V 120 GB Hard Drive HD Camcorder, Sony Handycam HDR CX100 8GB Flash Memory HD Camcorder, and Canon VIXIA HF S100 SDHC Flash Memory HD Camcorder.
References
Image from Wikimedia by user Ssolbergj