Home Theater PCs
More and more people are using PCs as part of their home theater. As a general platform, the computer can be an ideal companion to other home theater components and can even help drive down the costs of your total home theater package.
One question that comes up repeatedly is whether you are adding a computer to your home theater or adding home theater capabilities to your computer. The difference may seem trivial but the paradigm you choose can greatly influence the equipment you buy. In fact, it seems that it is the movie aficionados who add a computer to their home theater and the computer geeks who add home theater hardware and software to their PCs. Read on to learn how to choose the best motherboard for your home theater system.
Which Motherboard Features Do I Need for a Home Theater?
Motherboards are designed for utility in general-purpose computers. They are not usually geared toward use in home theater applications. With so many motherboards to choose from, it can be difficult to find the best one.
Truthfully, there aren't that many differences from motherboard to motherboard. The most recent motherboards are all capable of addressing DDR3 memory, sport 4 to 10 USB ports (external and internal), come complete with one or multiple PCIe slots, and support SATA300 and RAID drive configurations. Since it doesn't take too much processing power to display video and render digital sound, the best motherboard for your home theater is the one that offers the features you need and leaves off the ones you don't.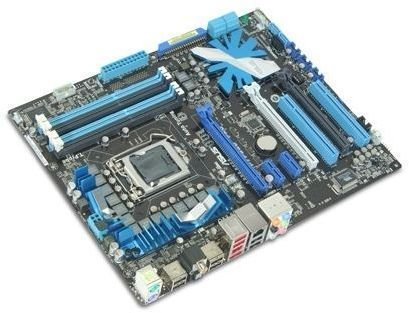 Take for example, the ASUS P7P55D Pro motherboard. At under US$200, this ATX motherboard has about everything you could possibly need for your home theater. It supports Core i7 and Core i5 (LG1156) processors and DDR3 memory overclocked to as high as 2133MHz. With room for up to 4GB of memory, two PCIe 2.0 x8 mode video card slots, and 14 USB ports, there isn't much you couldn't do with this motherboard as part of your home theater. Of course, this is a full ATX board. Even though many people are using full-size PCs in home theaters, some opt for smaller, compact computers to complement the rest of their home theater components. This brings us to the next question about choosing the best motherboard.
What Size Motherboard is Best for a Home Theater Computer?
Home theater aficionados often debate this question. Some argue that the PC should fit in with the rest of the home theater, an invisible component that doesn't stand out. Others argue that what matters is power, capability, and expansion and opt for full-sized computers. If you don't mind the fact that you've got a desktop computer sitting there among your other home theater components, the full-sized motherboard in a mid or full tower case is best for you.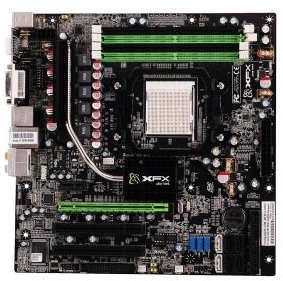 MicroATX boards can be just as capable as their full ATX brothers and sisters. Take, for example, the XFX GeForce 8200 MicroATX motherboard. At just under US$90 it supports up to an AMD Phenom II processor, DDR2 1066MHz RAM, 10 USB ports, and even supports RAID 0, 0+1, 1, and 5. This board also comes complete with GeForce 8200 graphics and Realtek ALC888 sound for those who want to maximize space and forgo separate video and audio adapters.
Your personal paradigm about adding a computer to a home theater system will determine whether a full-size motherboard or something smaller is best for you. If you already have your computer case then your decision is already made. However, don't discount the idea of either gaining the power and flexibility of a full-sized home theater computer or the advantages of compact solutions.
Bring Size and Features Together to Decide Which Home Theater Motherboard is Best
Now that you have considered motherboard features and size separately, bring the two together and make a decision. If you are the type of home theater buff who is constantly buying new components even before the old ones are worn out, then a full-sized, featured-packed motherboard is best for you. You need the flexibility and features of a motherboard that can grow and shrink as you connect, disconnect, and reconnect new components into your home theater.
If you are the type who wants to buy everything at once and expect it to last a long time, a compact motherboard is best for you. Why have a full-sized computer awkwardly sitting among your other components when you can integrate it physically and visually into your home theater? Find a motherboard that fits your needs and stick with it. You will likely use it for several if not many years.
Conclusion
When choosing the best motherboard for your home theater system, features and size are the two most important considerations. Your personal paradigm of what a PC should be in a home theater will greatly influence the features and motherboard size you need. Make a list of what is important to you in a home theater, decide which side of the fence you like better, and then choose a motherboard for your home theater that closely matches those needs.