Essential Home Theater Accessories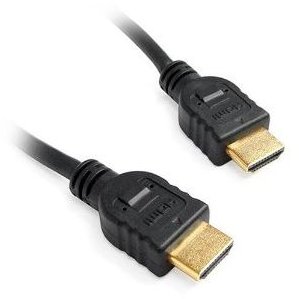 Installing a new tv or stereo system for a home theater can be a bit daunting. There are several options and new technologies to consider, and customer service reps may push packages containing a variety of add-on accessories. Some are useful, while others may not be worth your time. Since TVs, gaming consoles, and Blu-ray players are connected - not just with each other but with the Internet -there are several must-have accessories to pick up along with that new big screen LCD HDTV. The following list covers several areas of an entertainment center.
Cables
The first thing you need to view videos in high definition is an HDTV and a source for HD content. This can be a cable box or satellite dish. If your HDTV has a built-in digital tuner, you can also pick up standard television channels. Another source for HD content is high definition gaming consoles, such as the XBox 360 or PlayStation 3. Also, high definition Blu-ray disc players output content in high definition resolution. For these devices, a separate cable is required to transmit the HD video to the HDTV. Specifically, a high definition multimedia interface cable, or HDMI cable, is needed. It connects the gaming console or Blu-ray disc player to the HDTV, and transmits the high definition video content without diminishing the resolution. HDMI cables are usually six feet in length and generally expensive in electronic stores. Online retailers sell HDMI cables for a lot less, yet still deliver the same quality as expensive brands.
HDMI Cable - Price: $2.47
Surge Protectors

With so many electronic devices situated around the home theater, it is likely that a single outlet is being used to power everything. A surge protector is definitely a good accessory to have. By plugging the devices into a surge protector, the risk of damage from power spikes is reduced. Some surge protectors have charging ports for USB devices, such as wireless controllers, phone and Ethernet ports, and coaxial cable connections.
Belkin 6-Outlet Home/Office Surge Protector - Price: $6.77
Belkin 12-Outlet Home/Office Surge Protector with Phone/Ethernet/Coaxial Protection and Extended Cord - Price: $22.12
Remote Controls

Each device in a home theater seems to have its own remote control. If you don't mind having two, three, or even four remote controllers on the coffee table, then you wouldn't need a universal remote. However, if you eventually get tried of switching back and forth between the TV, DVD player, VCR, gaming console, stereo system remotes, consider one of the following remote controls. The Logitech Harmony remote controls up to four devices and is compatible with over 225,000 models. It has a one touch watch TV button and a dedicated set of buttons for Blu-ray players. An accessory for the Harmony remote is the adapter for PlayStation 3. With it, you can control the functions of the PlayStation 3 using the remote, including the Xross Media Bar and Blu-ray Disc controls.
Logitech Harmony 300i Remote Control - Price: $36.33
Logitech Harmony Adapter for PlayStation 3 - Price: $44.36
TV Antennas, 3D Glasses, TV Clean Kits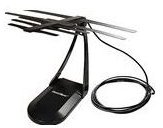 There are several accessories for the TV. The Channel Master 4040 indoor antenna boosts signal reception for over-the-air digital channels. This is perfect for those that don't have cable or satellite TV. Simply place the antenna on top of the TV, or mount it on the wall. The picture should be clear and in high definition. If the screen has smudges or dirt, use the MonsterScreen Clean kit to remove it. This kit contains a streak-free spray-on solution that is designed for TV screens and microfiber cloth. Now that the reception is fixed and the screen is clean, put on a pair of 3D glasses to view 3D movies.
ChannelMaster 4040 Indoor UHF Antenna - Price: $20.61
Monster TV CLNKIT Alcohol-Free ScreenClean Kit - Price: $12.35
Various 3D Glasses For Different 3DTV Brands
Furniture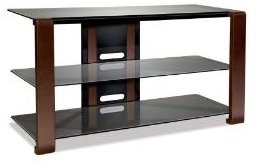 There are several options for furniture. The Bell'O TV stand safely supports TVs up to 46", while the Sanus wall mount firmly holds flat screen plasma and LCD TVs from 30" to 56". Sit back and relax on a home theater recliner.
After purchasing a new TV, Blu-ray player, or gaming console, consider adding a few of the home theater accessories mentioned above. The HDMI cable is an essential accessory for the high definition viewing and gaming experience. Protect your devices from power surges with a surge protector and safely mount your flat screen TV on the wall with a wall mount. Sit back in your comfortable recliner and enjoy all your devices with a single universal remote.
Reference
Image Credit: Images courtesy of amazon.com