Sony Home Theater Receivers
5.1 receivers used to be the rage. They have two front channels, a center channel, two rear channels, and a subwoofer channel, which is the .1 part of the equation. Now, 7.1 channel systems are the way to go, and the Sony Home Theater Receiver delivers that as well as anybody and, in most cases, more affordably.
The difference between the 5.1 and the 7.1 is two extra channels in the front. These drive two speakers placed higher than the mains to project sound over your head. This gives the illusion of things that make a lot of noise coming at you. The sound starts in the higher speakers, and then is gradually distributed to the mains and center speaker so things sound like they are coming at you. Or, the sound may be diverted to the rear speakers to sound like something passed over your head.
Sony does a great job of making new technology available to you. Here are five 7.1 Channel Sony Home Theater Receivers we found on Amazon that would be a great base for anyone's entertainment center.
Sony STRDH520 7.1 Channel 3D AV Receiver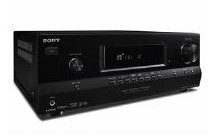 For around $200 you can have Sony quality and the audio a great entertainment center requires. Don't let the price fool you; there is nothing slack about the STRDH520. At 100 watts per channel, it has enough power to make action movies lifelike. Six high-definition inputs allow for hooking up Blu-ray, game stations and other HD components. It is 3D compatible to allow for connecting Blu-ray and similar devices.
The Sony STRDH520 7.1 Channel 3D AV Receiver is available on Amazon for $199.41
Sony STR-DH710 7.1-channel A/V Receiver with 6 HD Inputs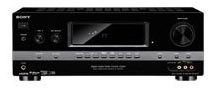 The STR-DH710 has all the features of the STRDH520, except it has 105 watts per channel. Additional features include audio docking for iPod, 24p True Cinema Mode with Blu-ray Audio Decoding for watching video at its original frame rate, and Digital Cinema Auto Calibration to ensure you are getting the best sound from your system.
The Sony STR-DH710 7.1-channel A/V Receiver is available on Amazon for $237.72
Sony STR-DN1010 7.1-Channel A/V Blu-Ray Receiver

The STR-DN1010 boasts a little more power — 110 watts per channel — and an additional HD input. It also has an HDMI Repeater with Pass-Through for hooking up several components via HDMI. You can come out of the back of the receiver through one HDMI cable to connect them to your television. That makes switching between all components a breeze.
The Sony STR-DN1010 7.1-Channel A/V Blu-Ray Receiver is available on Amazon for $299.77
Sony STRDH820 7.2 Channel 3D AV Receiver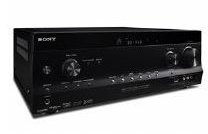 This is a 7.2 channel Sony Home Theater Receiver; it has two subwoofer outputs. If anything is wilder than an explosion through a subwoofer, it is one through two subwoofers. Speakers are driven by 110 watts of power. A dock for iPod/iPhone applications is included. Analogue pictures are Upconverted/Upscaled to 1080p. This provides a better quality picture for your HDTV.
The Sony STRDH820 7.1 Channel 3D AV Receiver is available on Amazon for $309.55
Sony STR-DA2400ES 7.1 Channel Home Theater AV Receiver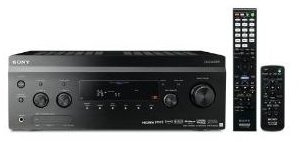 This Sony Home Theater Receiver is the bad-boy of the group. If you need it, it is probably on the STR-DA2400ES. It is a powerful 100 watts, has 4 HDMI inputs, a serial port for upgrades, up-scales to 1080p, XM Satellite ready, and iPod/iPhone docking. A graphical user interface (GUI) allows for easy navigation via icons. Getting the perfect surround sound settings is easy with the auto-calibration feature. The latest Dolby audio formats are supported: Dolby Digital Plus, Dolby TrueHD; as well as DTS HD High Resolution Audio. Great sound and features abound here.
The Sony STR-DA2400ES 7.1 Channel Home Theater AV Receiver is available at Amazon for $679.99
Resources
Images and Descriptions: Amazon.com