Best Universal Touch Screen Remote
A good universal remote can often be as expensive as the devices you are using it to control, and since it is the device you will be interacting with the most it makes sense to find a remote that you are going love. The following universal touch screen remotes cover a variety of styles and abilities as well as a wide range of prices.
Logitech Harmony 900 (5 out of 5)

One of the most popular of the universal remotes is the Logitech Harmony 900. Similar to the far less expensive Logitech One, it looks and feels much like a typical remote with a small touch screen near the front. It can be used to control up to 15 devices, has a rechargeable station so you never have to deal with low batteries, RF control so you don't have to have a direct line of sight. Finally, it allows you to connect it to your computer to make the setup far easier than the normal code entry of the system though that does mean that you need a computer to set it up.
(Cost: 269.00) Buy it here.
Universal Remote Control URC-R50 (4 out of 5)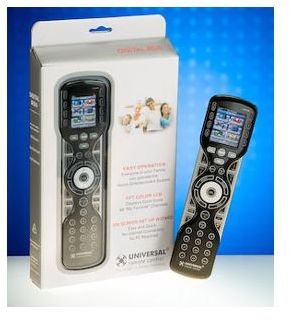 For those who think $250 is too much for a remote control or simply do not want to use a computer to set up their remote, the Universal Remote Control URC-R50 is an excellent choice, if not an excellent name. Only costing $88.76 on Amazon, this remote has many of the features of the Logitech Harmony. It lets you control 18 different devices, provides the ability to set up macros so that you can control devices with a single button and includes a learning mode, which lets you learn commands from other remote controls.
(Price: 88.76) Buy it here.
Homeshare Universal Remote (4 out of 5)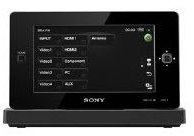 If you are not attached to the normal look and feel of a remote control then the Homeshare Universal Remote by Sony is an interesting choice. This device looks more like a tablet than a remote control with only a couple of buttons. On the right side is a five direction thumb stick and a home button is on the left. Everything else uses the touch screen. The major advantage of this is that it is not focused on only controlling TV and VCR's but also audio devices. It can even play some digital music itself as well as connect with Wi-Fi, so you can easily get the codes for your device. It is important to check if your devices can be controlled by this because some less popular devices are not supported.
(Cost: 299.99) Buy it here.
RCA RCU900 (3 out of 5)

If you are not willing to spend hundreds of dollars on a universal remote control then the RCA RCU900 is likely the best choice for you. This simple touch screen remote will not do everything that the other universal remotes can, but has many of the functions and is a great starter remote. This can control a maximum of eight devices, can learn controls from other remotes, has control macros and all the basic features.
(Cost 59.00) Buy it here.
Universal Remote Control MX-6000 2-Way Touch-Screen Remote Control (5 out of 5)
If your reaction to $300 for a remote control is that it seems far too inexpensive, then the MX6000 is for you. This is the luxur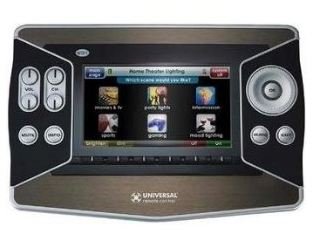 y universal remote control. This will not only control all your devices and can connect through Wi-Fi to set them up, but they will also be able to control an iPod, iTunes, Windows Media Player and more through this device to listen to your music wirelessly. It can even allow you to control the lights of your house if you want. And for $1245.00 at Amazon it should be able to do all of those.
(Cost: 1245.00) Buy it here.
Resources
Source:
Engadget, https://www.engadget.com/
Cnet, https://reviews.cnet.com/best-universal-remotes/
Consumer Search, https://www.consumersearch.com/universal-remote
PC Mag, https://www.pcmag.com/article2/0,2817,2354232,00.asp
Images, courtesy of Amazon.com