Finding the Right Stand
When discussing different TVs, media components and tech gadgets related to home entertainment on this channel we quite often only look at the technical specifications of an item. Screen resolution, battery life, power usage and compatibility. And of course, all of this is very important but we must not forget that our entertainment centers are as much cosmetic features in our home as they are entertainment and technical features.
Nobody wants to have an ugly looking entertainment set up sitting in their living room. It would be an eye sore and detract from the coolness of your entertainment set up. So I've done some research and found three great home entertainment stands and set-ups around the world which should inspire you to create your own great looking stand or buy one of my suggestions below.
Die Collection – Cool Swivel TV Stand
Available from Die Collection, upon first glance may look odd but I really like the idea and it works well with modern house designs and even office board rooms. Basically, the TV and a backboard storage unit are mounted on a pole, attached vertically to a wall. It's all very minimalist and the wood finish looks really nice against the silver framework and the TV.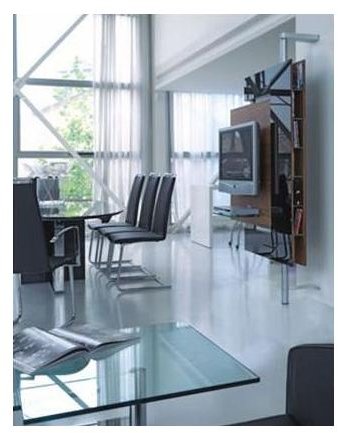 But that's not all. The backboard storage unit has a gap cut in one side and the TV is mounted on the pole inside of this gap, as seen seen in the picture below, which allows the TV to be swiveled easily into any direction you like within a 180 degrees angle. This is great for any home with large rooms or meeting areas where a TV is being used for displaying information. A great media stand and one that will attract a lot of interest from visitors in your house. You can download a catalog from Die Collection here.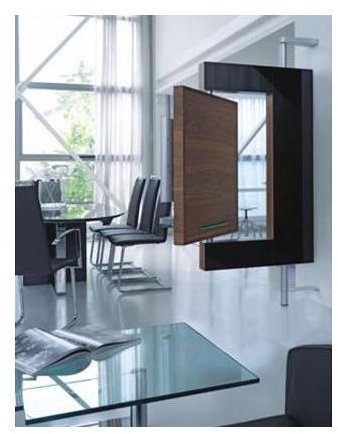 Screenshot by author courtesy of VIT House.
RuF Cinema MultiMedia Bed/Stand
For many of us, the best place to kick back and watch a movie is in a nice warm bed with a loved one. Unfortunately, we often neglect the home-theater aspect of our bedroom TV set up and can be struck with a bog standard wall-mounted TV. Sure it's fine for watching the news or or re-runs of Friends but it really doesn't cut it for a movie buff.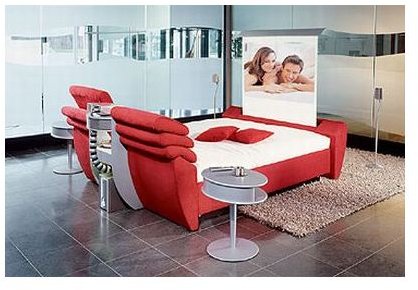 This innovative media stand from RuF is built around a futuristic bed and can accommodate DVD Players, games consoles and a sound system. There is also a projection screen which rises from the foot of the bed and uses a projector mounted in the center of the head of the bed.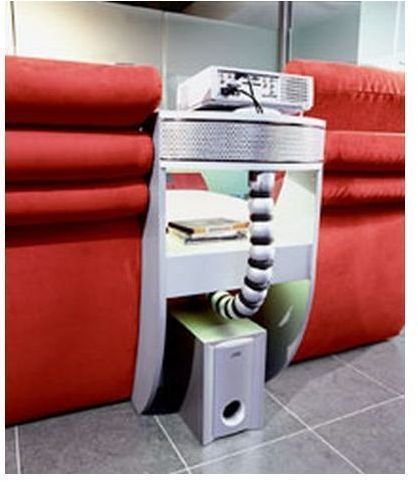 This is a great take on a media stand and a definite source of inspiration for those out to buy a new stand or build their own! Contact RuF Betten for more information on pricing and where to buy.
Screenshot by author courtesy of Gizmo Watch
Media Wall by Vismara Design
Our final entry in our list of home theater media stands comes from Vismara design and is called the Media Wall. Instead of just using a traditional "stand," they make great use of the surrounding walls and immediate areas which would have otherwise gone to waste. They make great use of color and the stand underneath the TV has a nice floating effect. There is plenty of storage room and an excellent layout to support sound system wiring options. For pricing, head on over to Vismara Design.
This set-up will suit so many living rooms and yet is very unique. All in all; an awesome home theater media stand!
Screenshot by author courtesy of Decor Dir