The LCD format lends itself to the 16:9 aspect ratio which is more easily converted to a 37 inch television. If you are concerned that a 37 inch LCD television won't fit in your current console rest assured that the physical size of the bezel on these screens is smaller than on an analog 36 inch set meaning the 37 inch LCD flat screen television will fit your console (you may even have a bit more wiggle room than you had before so the side inputs will still be usable). So the best 36 inch LCD flat screen televisions are actually 37 inches.
LG 37LH55 37-Inch 1080p 240 Hz LCD HDTV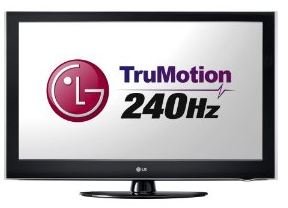 The LG 37LH55 is simply the best 37 inch LCD flat screen television available today. What pushes it to that point is the flawless 240Hz refresh rate. There are several 1080p resolution televisions out there but this one has TruMotion technology that eliminates blurring from even the fastest motion sequences. This set is great for viewing live sports and fast action movies. The LG has an 80,000:1 contrast ratio and an intelligent sensor that automatically adjusts brightness and contrast according to the lighting conditions in the room to provide optimal viewing. There are a plethora of inputs including 4 HDMI inputs for hooking all of your HD gadgets including BluRay players and the latest gaming consoles.
For $799.77 you'd think that would be enough, and you'd be right – but there is more! The LG has ClearVoice II audio enhancement that amplifies audio in the human voice range so that even soft whispers can be heard clearly without having your eardrums blow out during the loud action sequences. There is also a picture calibration wizard to help you adjust colors and contrast to your liking. The LG also offers 24p cinema viewing that presents movie theater quality picture at the same frame rate as at the theater (no additional frames added). This is the best 37 inch LCD TV you'll see for quite a while and it is well worth the higher price point.
LG 37LE5300 37-Inch 1080p 120 Hz LED LCD HDTV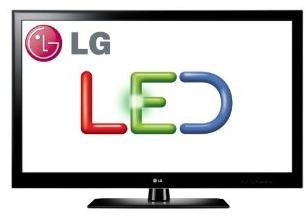 For slightly less than the 240Hz 37LH55, you can get the LG 37LE5300. It costs $639.95 and offers several of the same features as its faster counterpart. The 3,000,000:1 contrast ratio offers deeper blacks and more stunning whites while only suffering a slightly slower refresh rate. For the casual viewer. there will be a bit more blur during super fast action sequences and live sports but not so much that it will hinder viewing. This set is great for viewing brilliant colors and truer hues.
If you are not a sports fan, this is the best set for you. It has the TruMotion anti-blur technology, Picture wizard, intelligence sensor, 24p cinema mode and ClearVoice II technologies. On top of the 4 HDMI inputs there are also a rear and side component inputs, composite a/v inputs on the rear and side, a rear RF input, a PC input, a PC audio input and a USB port, again a fine television that will fit a 36 inch console. This is one of the best 37 (or 36) inch LCD flat screen televisions with more than enough bells and whistles for every user.
Images courtesy of Amazon.com
Toshiba 37E200U 37-Inch 1080p LCD HDTV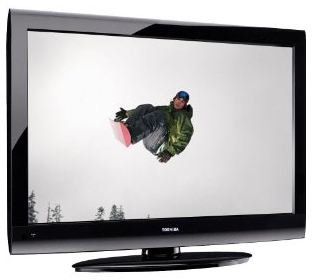 The Toshiba 37E200U is a $496.80 LCD TV that offers the slowest refresh rate on this list at 60Hz. It fits the best 37 inch LCD flat screen television section because of all of its intangibles. The Toshiba is a quality constructed TV with several inputs: 4 HDMI, 1 component, 2 composite, 1 PC, 1 USB and 1 optical digital audio output. There are three separate theater viewing modes with all supporting the 24p frame speed. The real reason this TV is on the list is because the LED backlighting creates a vivid picture that is brighter and crisper than most of the other TVs at its price point. This is one of the best 36 or 37 inch LCD flat screen televisions below the $500 threshold.
VIZIO E371VA 37-Inch Full HD 1080P 120 Hz LCD HDTV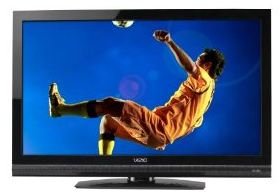 The VIZIO E371VA may be the best 120Hz LCD TV on the market, and the price of only $449.98 is almost beyond belief. A year ago a set like this would have cost well over $1000. This is a great set for watching HD television or movies, but I advise upgrading the sound system. The speakers in the set itself lack good bass, leaving the sound a bit weak and tinny. Also, this is not a great gaming television because the response time between a button push and the reaction on screen can take as long as half a second. This makes most games unplayable.
The VIZIO does make up for these issues if you use it for BluRay media and watching television mostly. Buying an upgraded sound system should be easier with the relatively low cost of this set. The picture alone is worth it. It comes with the standard 4 HDMI inputs so you can hook up your peripherals easily. While it is not the best 36 inch LCD flat screen television it can be a great theater component for a very nice price.
Samsung LN37B650 37-Inch 1080p 120 Hz LCD HDTV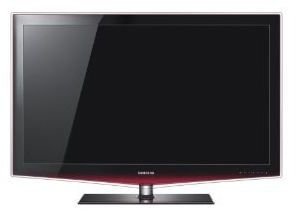 The $850.00 price point for the Samsung LN37B650 is very reasonable especially considering its auto Motion Plus 120Hz refresh rate providing amazingly fluid motion, the 100,000:1 dynamic contrast ratio, a 4ms response time and the Wide Color Enhancer 3 allowing for more vivid colors including deeper blacks and brighter whites. The InfoLink RSS feeds allow access to news, weather and sports via the Ethernet connection while the side-mounted USB port lets you view pictures or listen to music stored on any USB enabled device. The Samsung has plenty of inputs as well: 4 HDMI, 2 component, 2 composite, 1 PC, 2 USB, 1 Ethernet and 1 optical digital audio output.
The Samsung is the not one of the best 36 inch LCD flat screen televisions out there (because it is 37 inches) but it is in the top five. The video quality is fantastic but there are some basic flaws when watching certain sporting events. There can be artifacts left on the screen, especially during hockey games for some reason. The set doesn't come with a manual, so if you can't figure out where something is intuitively it might become frustrating. In the end this set looks great in standard or high definition and sounds just as good. It would be a great addition to any viewing room.
Images courtesy of Amazon.com
Resources
LGcorp.com
Vizio.com
Samsung.com