Review of the Garmin Forerunner 210: See How It Stacks Up in the Forerunner Series
Introduction
The Garmin Forerunner 210 is designed for runners and folks that are seriously into their physical fitness, especially monitoring their training sessions. There are several different Garmin Forerunner Sports Watches on the market with varying features, prices, and styles. We have reviews on all of them which are referenced in the appropriate sections below so you can determine which model would be the best fit for you.
Design/Style (5 out of 5)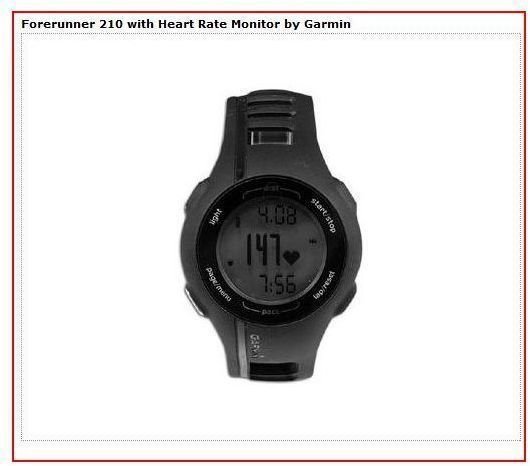 It's a sharp design that's lighter, thinner, and narrower than the pricier and more feature-laden Garmin Forerunner 410. The 52 X 30 pixel resolution display is clear so you can easily view it while running in any sunlight conditions. With the touch of a button, a bright user-activated backlight helps you see it at night. Although it's certainly a matter of preference, the less I have on my wrist when on the long haul, the better. This model is water resistant, not waterproof, which might be very important detail if you live in a place where rain is prevalent or you want it on while you're swimming too.
Features/Performance (4 out of 5)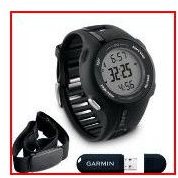 In terms of GPS functionality, technology called 'Hot Fix' locks onto satellites faster and locks down on them longer which is good because you're running. Since the Garmin Forerunner 210 is primarily marketed and used as training aid to runners, a listing of the Training Features is necessary. Unlike the Garmin Forerunner 110 that only offered 'Average Lap Pace' the 210 allows for Current Pace, Average Pace over an entire run, and Interval Training (which you can customize with the time and distance of your choosing).
The Heart Rate Monitor is integral to the serious athlete because it really is the only true way to calculate the intensity of your workouts and your conditioning level. Since the 210 is a later Forerunner addition, the improvement to this feature is worthy of noting because it's not as heavy and burdensome now.
With a lighter, elastic strap, the new monitors are much more comfortable to wear. Furthermore, the built-in calorie calculator is really handy although sometimes depressing when you realize just how hard you have to work to burn a significant amount of calories. By the way, if you'd like to see what is available in this category from companies other than Garmin, you should take a look at the top GPS running and fitness watches.
The alerts the Garmin 210 gives you when you leave your customized heart rate target zones are also phenomenal features. Garmin's Online Connect Portal enables you to track your performance over time, set fitness goals, share your runs with fellow runners, play back your runs like a highlight reel, and even plot your routes on Google Maps.
User Interface (5 out of 5)
Users operate standard watch-like buttons to operate it, unlike the touch bezel on the face of the Garmin Forerunner 405 and 410, which a great deal of users complained about claiming it suffered from multiple glitches and really unruly in the rain. The buttons function well and it's engineered so that operating it isn't such a nuisance that you almost have to remove it from your wrist to work it. Since it doesn't have an enormous amount of programs and features like other Forerunner models, it's a lot easier to figure out how to work the GPS functionality and training aide features. This bodes well for runners who want the most essential features without having an over-complicated interfaced to contend with. A quick look at this review of the significantly cheaper Garmin Forerunner 305 will give you a good understanding about the entire range of varying capabilities in the entire Forerunner series.
Price to Value (4 out of 5)
You can buy the Forerunner 210 for between $250 and $300 (depending upon the features you desire) at Amazon.com. For all that it offers, its ease of use, and slim design, it's really worth it. By comparison, here are the current estimates for its counterparts:
Forerunner 110 - $ 250
Forerunner 305 - $ 140
Forerunner 405 - $ 220 - 350 (depending on features)
Forerunner 410 - $ 300
Conclusion (4 out of 5)
For runners who just want to hit the bricks running without over analyzing and programming every step of the way, the Garmin Forerunner 210 is an outstanding choice. The comfort and functionality of the newly designed heart rate monitor and the Online Connect Portal which allows you to train at optimum effectiveness make this a superior model.
References
Garmin.com
trustedreviews.com/Garmin-Forerunner-210
Amazon.com