Lowrance X510C Sonar Fishfinder Review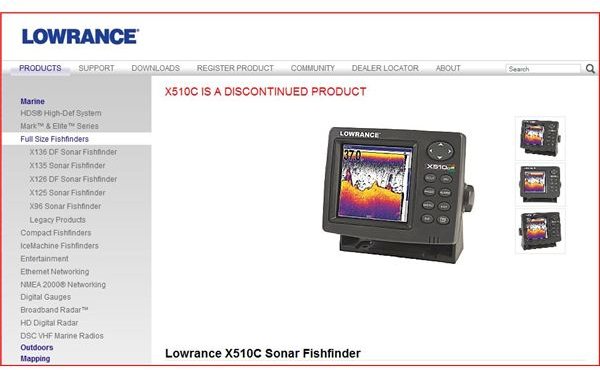 This Breed of Fishfinders
The Lowrance X510C Sonar Fishfinder may be discontinued by the manufacturer, but you can still find one available at a discounted price, or buy one used if you so desire. This particular model is designed for freshwater fishing, but it can work nicely for inshore saltwater as well. Bass fisherman have found it very effective and user-friendly. By comparison, if you want to see what some of the top of the line sonar fishfinders of this sort have to offer, read What is a Good Freshwater Fishfinder? There, you will find a little overview of the differences in the technology that go into a saltwater fishfinder versus a freshwater model, such as single or dual frequency to generate a cone of detection. The best features of highly effective offerings from Hummingbird, Eagle, and Garmin are detailed for you along with pricing and quick links to buy one if you're hooked. A quick review of that article will inform you about how those models stack up against the device were reviewing here.
Fishfinders have come a long way from the primitive blips on antiquated screens that identified and tracked fish in a small radius usually directly underneath the boat. Now the digital displays give you accurate readings of depth, what kind of structure is down there that you couldn't otherwise see, and even the size and number of fish in wider angles from your vessel. Therefore, fishing enthusiasts could capitalize on the advancements in technology which allowed them to stalk their prey because they knew exactly where they were at. Purists may look upon this as cheating but the skill and intuition it takes to hook and land the coyest fish is still left up to the angler's instinct. Knowing where they are doesn't necessarily mean you will catch fish that can be very finicky about what they want to snack on.
The Best Attributes of the X510C by Lowrance
When the Lowrance X510C Fishfinder first came out, it was one of the most advanced devices of this kind on the market. Consumer reviews gave it mostly rave reviews such as the Five-star rating it received from Bass Pro Shops, where accolades pertaining to its easy installation, sensor speed, and overall performance were stated in reviews by the people who bought one for their fishing boats. The following features, functions, and capabilities are what made this model a high-quality offering for fishing enthusiasts:
5", 480 x 480 high-resolution display screen with brilliant colors for distinguishing depth, fish, and structure.
Innovative sonar technology for accurate bottom readouts which is also radar compatible (to other Lowrance units).
It can read depths to 900 feet.
Highly effective transom-mount 200 kHz Skimmer® transducer with a built-in temperature sensor. (To learn more about transducers and sonar technology, read this article here.)
Adjustable Ping Speed with HyperScroll® to track well while your boat is moving.
As stated, this model is outdated and Lowrance has replaced it with the HDS® Potent Broadband Sounder Fishfinding model and the Mark™ & Elite™ Series which combines fishfinding and chartplotting technology. You can find all the details and pricing for these models here at Amazon.com. But overall, the X510C is still a worthy model that can be your go-to fishing buddy for the price of roughly $ 600. This model is still available for purchase at jamestowndistributors.com.