What's The Best GPS For Hiking and Geocaching?
The best GPS for hiking and geocaching has to be loaded with the features and capabilities suited for both of these popular outdoor activities. If you're reading this you're probably an avid fan of both, since in many cases, these hobbies overlap anyway. The GPS device that is best for both needs to be durable, waterproof, have tons of memory and waypoint storage (for marking routes), WAAS enabled (makes it extremely accurate), TOPO mapping capabilities, a built-in-compass, paperless geocaching, and an altimeter. For a complete description of all the things to look for when shopping for one, read the Best GPS Units for Geocaching. Because it has all this and more, the following make and model tops out as the best dual purpose GPS device you'll want to have along for the trail.
The Garmin Oregon 550t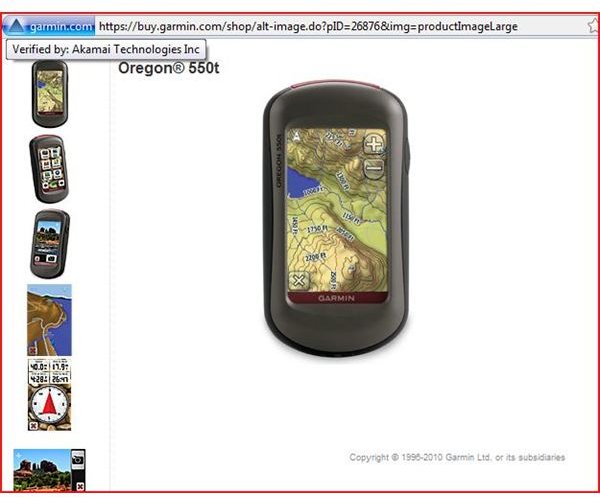 Features that make it stand out:
The Oregon 550t has a rugged 3" color touchscreen that's readable in direct sunlight.

Made to handle the toughest nature can throw at it.

It's super-slim and super-light weight.

Intuitive interface and menus that makes navigating easy.

Comes out of the box with built-in topographical data for the continental U.S and a world-wide basemap. These outstanding maps include the best details hikers and geocachers appreciate like shaded relief, national, state, and local parks, national forests, terrain contours, elevation information, trails, rivers, lakes, and points of interest.

3-axis tilt-compensated electronic compass which shows the direction you're heading when you're moving even if the device isn't level.

Convenient Micro SD card lets you add all kinds of other maps and data easily.

Barometric altimeter can even be used to plot pressure over time which will keep you apprised of changing weather conditions.

It supports Geocaching.com GPX files to download geocache details straight onto the unit which means eco-friendly, paperless geocaching.

It stores key info like location, terrain, difficulty, hints, descriptions, and more which means you don't have to manually enter any of that.

You can simply hit "send" to share all that info with other Garmin Oregon, Dakota, Colorado (even though this model is discontinued) users.

Simply by connecting your device to your computer, you can obtain a detailed analysis of all your activities at Garmin Connect and from that site you can view those activities on Google Earth and see the routes taken by other Garmin users too.

Finally, it has 3.2 megapixel autofocus digital camera that automatically geotags where the picture was taken which allows you to navigate back to that exact spot on future trips! You don't even have to pack a camera and every little ounce adds up on those long trips, plus you've got a whopping 850 MB of internal memory for pictures. You can also share all of those pictures quickly and easily.

At Amazon.com it's currently retailing for $520.
To learn about some other models that are excellent choices for mid and low budget minded enthusiasts, read Top Geocaching Models for Mid and Low Budgets. So there you have it, the best choices to have along for all of your geocaching and hiking endeavors. Happy trails to you and yours.