Overview
If you take a look at the outdoor GPS navigation units produced by Garmin to date, you'll have a hard time picking out the best. More so, majority of the outdoor Garmin GPS units have been in the market for quite some time, and selection of new versus old may be yet another tough task. So, let us take a look at some of the best outdoor Garmin GPS units that are worth your money.
Important Parameters for Choosing the Right Garmin Outdoor GPS
Choosing the right Garmin outdoor GPS isn't just about finding a Garmin GPS that fits your budget, and works well. It is more about finding the best Garmin outdoor GPS navigator that offers the desired set of features that suit your requirements in the best possible manner.
So, here are the top 3 parameters for choosing the right Garmin outdoor GPS unit –
1. Preferred Mode of Usage: If you're planning to go on a long biking trip, a good car GPS isn't something that is going to help the cause. As such, it is necessary that you pick an appropriate Garmin outdoor GPS that really serves your purpose seamlessly.
2. Pricing: Pricing always plays a key role in the final decision. If you can't afford to shred off say $400-500 on a fully featured GPS navigator, you may have very little options at your disposal. More so, if you're running on a low budget, you don't find too many options either.
3. Robustness: If you're planning to use your Garmin outdoor GPS unit inside the car, you may not be really worried about its water-resistant capabilities. However, if you're required to step out, and navigate when there's heavy rainfall, it may make a world of difference. Hence, it is advisable to pick an outdoor Garmin GPS unit, which is robust enough to survive few bad falls, water/liquid spills, and rough handling.
Apart from the abovementioned factors, style, and class, are also two more significant aspects to be considered as well.
Top Garmin Outdoor GPS Units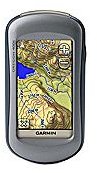 Garmin Oregon Series – If you want an absolutely rugged next generation outdoor Garmin GPS that offers cool looks as well as plethora of features, the Garmin Oregon series is definitely for you.
Garmin Oregon 400T has already been reviewed in detail separately, and you can take a look at this review here.
All Garmin Oregon units come preloaded with the U.S. topographies, and top notch features like barometric altimeter, fascinating color display, cool-looking touch screen, a high-sensitivity GPS receiver, wireless data sharing, and the likes of them.
However, the Garmin Oregon GPS units are a costly affair, as they come with a starting price tag of $400+.
Garmin Dakota Series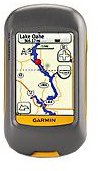 The Garmin Dakota models are extremely lightweight GPS devices, which combine rich set of features, and rugged waterproof body in a sleek compact design.
They also have a high sensitivity GPS receiver like that of the Garmin Oregon series GPS navigators.
What's more, you get 20 hours of battery life, and much more; so they're the way to go, if you need a waterproof GPS in lightweight and trendy design.
They're also priced around the same range as that of the Garmin Oregon series navigators.
GPSMAP 60 CSx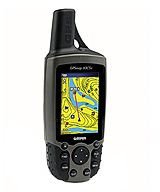 Coming to the high performance GPSMAP 60CSx navigator, it is one of the best handheld GPS outdoor navigators that has the features of the latest generation GPS devices, along with added goodies that are missing in the other 60–series units.
As far as the pricing goes, Garmin Oregon, Dakota, as well as GPSMAP 60 CSx are quite close; the 60 CSx may cost you about $50 greater than the other 60-series products, and the Dakota series units.
However, the GPSMap 60 CSx scores over the Oregon and Dakota series with its portable nature, and capability to be used as a handheld GPS under all circumstances. They're also ideal for trekking purposes.
Garmin eTrex Series

For the adventure-lovers, the Garmin eTrex GPS units are simply a superb option, which are ideal for adventurous trips like hunting, and trekking.
The versatile Garmin eTrex series of outdoor handhelds features rugged shell, and they come loaded with high-sensitivity GPS receivers to help you in holding on to your position even in the deepest cover.
Apart from these outdoor Garmin GPS units, you may also be interested to take a look at the Best Future GPS Devices, and the Garmin Nuvi 885; a worthy GPS device.