We searched long and hard to find some of the best motorcycle GPS units for those who like traveling the wide-open country, city streets and highways on their motorcycles. In general, these GPS units are at least splash proof and can be used on the motorcycle or easily removed for use in a car or as a handheld navigation unit.
Garmin zumo 665 Widescreen Motorcyle Navigator
The Garmin Zumo 665 has a bright 4.3" display that is glove compatible and visible even in bright sunlight. This unit has a rugged construction that is both waterproof and vibration proof, which is an important feature to have since the rain can start falling without warning. Of course you can ensure that really bad weather doesn't catch you off-guard by adding XM NavWeather to the unit which gives up-to-the-minute weather data and NEXRAD radar graphics so you can see where the trouble spots are and plan a route to circumnavigate the trouble spots.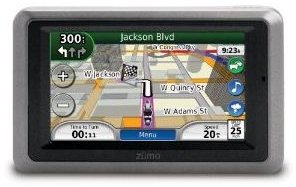 The Zumo 665 also comes standard with a XM antenna so you can access scores of digital channels that carry commercial-free music, news, entertainment, talk and sports content. The Zumo 665 is stereo bluetooth compatible so you can listen to your favorite stations through a headset or even get spoken turn-by-turn directions from the unit or simply listen to MP3 files or Audio books you have saved it.
The Zumo 665 comes preloaded with street maps and tons of points of interest (POIs) that include restaurants, gas stations, motels and ATM locations. The Garmin Zumo 665 takes GPS navigation one step further by offering 3-D building view and lane assist that show images of the surrounding so you will know if you are making the right turns and following the correct route – the lane assist helps you choose the right lane in order to exit and enter roadways properly.
A feature that many users will surely appreciate is the ability to plan a route/trip on your computer and upload it to the Zumo or share the same with friends. To find new and interesting routes you can also visit Garmin's online community to get some ideas for your next trip. If you travel often and want to explore new places within the United States, Canada or Puerto Rico, the Zumo 665 should have the mapping data you need.
Product Dimensions:
· Product Dimensions: 0.9 x 5.3 x 3.3 inches; 1 pounds
· Shipping Weight: 4 pounds
TomTom Rider 2 GPS Navigator for Motorcycles and Scooters
The TomTom 2 can give turn-by-turn directions to addresses in the United States and Canada. You can use Rider 2 to plan trips along the shortest, fastest, non-toll roads, and routes that skirt highways, if that is your preference.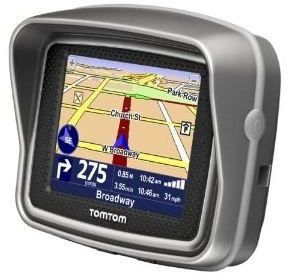 The bluetooth feature enables hands-free calling, but users will appreciate the noise cancellation feature of the TomTom Rider 2, especially if they need turn-by-turn directions while riding. For the times when you need to look at, and interact with the unit, you will also appreciate the anti-glare screen, integrated sun visor, and the fact that you can use this motorcycle navigation device without taking your gloves off.
It also has a rugged and waterproof construction that ensures that you can keep riding and still get navigation information even if it starts raining. Other notable features include:
· Preloaded Points of Interest so you can easily find millions of gas stations, restaurants, and hotels along your route.
· A TomTom Map Share features that allow other TomTom users to help you verify a route.
· Help Me! Emergency Menu – A feature that can be used to find and access local emergency services, such as hospitals, the police and fire stations.
· Traffic Ready—This optional keeps you updated on the latest traffic events.
· Fuel Price Service – An optional feature that is handy for finding gas stations that offer the best prices.
Product Dimensions
· Product Dimensions: 6.5 x 6.5 x 6.5 inches; 3 pounds
· Shipping Weight: 4 pounds
Garmin Zumo 550 3.5-Inch Portable GPS Navigator
This is a solidly constructed mobile navigator that can handle nearly anything you can throw at it, but since most users will only expose it to rain and direct sunlight, it's well capable of handling the conditions for which it was designed.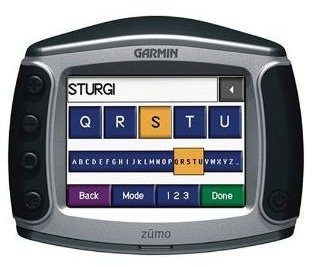 The ABCDEF keyboard on this Garmin Motorcycle GPS unit can make text entry unnecessarily long and tedious, but the fact that you can plan your trips on a computer before you get started means that you won't need to use the device's keyboard for much text input.
If you take the time to plan your trip and use Garmin's Tour Guide feature, you will be alerted when you are approaching a POI such as an attraction or even a school – the Tour Guide feature, is a free utility that allows you to build and upload a database of POIs that are encoded with photos and MP3 files.
The phone is bluetooth compatible, which means that you can make and receive hands-free calls, and because the screen is glove-friendly you can use this GPS navigator without taking your gloves off or pulling your phone out.
Product Dimensions
· Product Dimensions: 3.3 x 2.2 x 4.6 inches; 10.6 ounces
· Shipping Weight: 4 pounds
Conclusion
There are quite a few motorcycle GPS units on the market that can serve the needs of most riders, and the rough and tumble of outdoor use. However if you want a feature rich Motorcycle GPS navigator, we can recommend the Garmin Zumo 665, but if you want a device that can really handle the rough and tumble the Zumo 550 may be perfect for you.
References
"Motorcycle gps units," www.Garmin.com
"Motorcycle gps systems," www.tomtom.com
Image Credits: Each image is the property of the respective manufacturer.