The TomTom Car GPS car navigation line of products allows a high level of customization by owners. The standard TomTom car symbol is a blue arrow. The TomTom car symbols show your location on the map display of a car navigation GPS unit. Not many things are more boring than a blue arrow. Would it not be nice to change the car symbol on your TomTom to something more interesting. Maybe an image of your car model or the space shuttle!
Car Symbol Images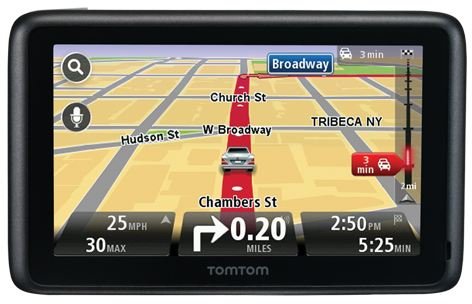 If you are handy with photo or image manipulation software, you can make your own car symbol for a TomTom GPS. Any image can be used. Here are the criteria for TomTom car symbols.
Image size of 80 by 80 pixels
Image must be on a red background, color value: RGB

255000000. The TomTom device turns this red transparent.

Image saved as a 24 bit .bmp file.
The TomTom custom content manual notes that the car symbol may be on light or dark areas of the GPS map display. If your image is predominantly light or dark a contrasting border will make it more visible on all areas of the GPS display.
Adding Car Symbols to Your TomTom
The TomTom HOME software is used to transfer symbols and software changes to your TomTom GPS device. If you do not have TomTom HOME installed on your computer download it here and install the software. The steps to get your new car symbol into your TomTom GPS and on the screen are:
Use TomTom HOME to upload the car symbol to the art/cars folder of the GPS device.
Go to the main menu of TomTom HOME and select Add Maps, Traffic, Voices, etc.
Select Images and Icons then select Car Symbol.
Select the Add option next to the car symbol you want to use.
If the new car symbol does not appear on your TomTom navigation device, tap on Change Preferences in the main menu of the device and chose Change car symbol to find your new image and make it the image used by your GPS device.
While you have your GPS hooked up to the computer for new TomTom car symbols, think about adding some custom voices.
Ready Made Car Symbols
If you are not the build-your-own graphic image type, there are numerous sources for TomTom car symbols on the Internet. A couple of webpages where you can download free car symbols are here and here. Even if you want to put together your own car symbol image, these pages can give you some ideas.
The car symbol is not the only symbol you can change in your TomTom navigation device. The TomTom HOME software plus the device software allow you to change the start up and shut down images. Other images that can be replaced are the ones for Home, Favorite and Buddy. The process to change the symbols works the same as for the car symbol.
References
TomTom Manual: Create Your Own Content http://create.tomtom.com/manuals/create-your-own-content/index.html?car_symbols.htm

Photo: TomTom.com