Zanybandz Review: What's All the Fuss About Anyway?
What are Zanybandz?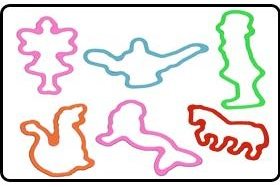 Zanybandz are multi-colored, shaped rubber bands you can wear like bracelets. They are shaped to match a variety of animals and objects, with everything from a star, to a dog, to a cowboy hat. They are sold in sets of 24, with 6 different pieces to a collection. The six pieces are duplicated four times, each in different colors, to give children the freedom to choose their favorites, and trade the others with their friends. The recent craze over the product has led to many children demanding more and more of them, and many schools have banned them from class because of the potential distraction. Remember the Beanie Baby craze? Yep. It's like that.
Variety (4 out of 5)
Zanybandz come in all shapes, sizes, and colors. They usually come in themed packs. The selection from the company's current website provides the following options:
Tie Dye: At the Beach, Hollywood, Dragonz. The Tie Dye collection is made of bands of multiple colors, usually spotted with two colors per band.
Bold 'N Bright: Retro, Safari, Circus. The Bold 'N Bright collection is made with a variety of bright and bold colors, one color per band, with each item in the collection available in more than one color.
Glow in the Dark: Spring, Noah's Ark, Animal Crackers, Mystic, Moonlight, Piratez, Sportz, Bugz 'n Beez, Camp Wig Wam, Bag 'o Dogz I, Bag 'o Dogz II, Water Creatures, and Old West. The Glow in the Dark collection is made from a variety of colors that you can see in the light, but regardless of band color, all of them will glow in the dark.
Each one of these sets contains a themed selection of bands. With everything from beach items, to animals, symbols, camping supplies, and more, boys and girls are going to find a set they love. Though you may not be able to find all these sets at your local retailers, you will still find a decent variety. Going outside this particular brand will help you find an even wider variety. We've been able to find NFL licensed for each team, as well as characters from children's movies and TV shows but you won't find these with Zanybandz.
Availability (5 out of 5)
Zanybandz are widely available at most retailers such as: Wal-Mart, K-Mart, Target, toy stores, and even drug stores. This product seems to be everywhere. While Zanybandz may not be the only brand name of the shaped rubber band bracelets, you are sure to find them nearly every time you leave the house, as we can find them in video stores, and gas stations at times.
These can also be found online, generally for a cheaper price, at Amazon, eBay, and other popular retailers.
Price to Value (3 out of 5)
The price will vary greatly depending on the merchant. Online, directly from the Zanybandz website, you can find a 24 pack for $4.95 plus shipping and handling. Some stores may charge less, others may charge more. With shipping and handling, 1 pack quickly becomes $6.93. The more you buy, the more you save on shipping, and there's currently a buy five get one free promotion. While they certainly are not the cheapest toy you could get for your children, you'd probably expect to pay less for what you're getting.
My son has tons, and I mean tons, of these in a bag in his toy box. He's bought a few packs with his allowance, and traded with his friends. Of the several hundred of these in his bag, I don't know which ones are Zanybandz over other brands, but I can say even when well pulled, stretched, and intentionally attempting to break them, only one or two of the whole batch has broken. You're more likely to lose your money through your child losing the bracelet than breaking it. Does it still make them worth $5-$7 a pack? Not in my opinion. If you can find them cheaper, it's a good way to keep your kids busy a while, but they could very well make a mess all over your living room.
Resources
Image Credit: Zanybandz