Great Tips: Electronic Cookbook Buying Guide

A New Generation
We all remember our mother's well worn cookbook, full of recipes handed down from generation to generation. We probably also remember how difficult it could be to read the fading writing, how some of the pages were on the verge of falling out, and how there was always a debate about which sibling would be the owner of this special cookbook. Technology has infiltrated every other part of our life, so why not switch to an electronic cookbook as well? There are many benefits of having an electronic cookbook, but the most important advantage is that there is no chance that the recipes close to your heart will be lost: With an electronic cookbook, they can always be backed up on an alternate source.
In this article, we will discuss five different types of electronic cookbooks. Each cookbook will be compared on price, availability, memory, whether or not it's easy to read, and its special features so that you can get an overall picture of which electronic cookbook is right for you.
Demy Kitchen Safe Touchscreen Recipe Reader:
The Demy is definitely the frontrunner in terms of gadgets that are specifically designed as electronic gadgets. The Demy stores up to 2500 of your favorite recipes, and it is linked to keyingredient.com (a website with hundreds of new recipes you can explore and add to your Demy).
The readability of the Demy is very high. Small text can be enlarged simply by tapping the 'font size' button until the text is the desired size. The Demy can be purchased online at the official Demy website or on Amazon.com. It can also be found at Barnes and Noble. Regardless of where it is purchased, the Demy is generally about $200.
Although this gadget is on the pricey end, the Demy has many special features that will make your cooking experience a breeze. Worried that your electronic cookbook will clutter your countertop? The Demy takes up as much space as a 5x7 card. If you want to save even more space, the screen flips to take up on as much space as a 3x5 card.
One of the main concerns people have about their electronic cookbooks is whether they are safe from spills that might occur in the kitchen. The Demy has a splash resistant design due to its plastic exterior and is easy to wipe down. Other neat features the Demy has include an easy-search feature that allows you to jump to any letter in your recipe collection with just one tap, a short list ability that allows you to bring all of the recipes involved in one meal to one spot, three built-in timers, a conversion tool, and a full list of ingredient substitutions.
Using the Apple iPad as an Electronic Recipe Book:
The new Apple iPad has many amazing features, one of which is its ability to be used as an electronic cookbook. There are many new apps out there that will turn your iPad into a cookbook. The most popular cooking app is Epicurious. This app will give you access to 27,000 recipes from both Gourmet and Bon Appétit magazines. This app will be discussed in further detail below. The text on the iPad is easily enlarged with just a few taps. Either you can purchase protective screens and stands for your iPad so that it is not damaged in the kitchen or you can place it a Ziploc bag to protect it from spills. The well-known website, AllRecipes.com is also planning to launch an iPad app in the near future.
Another cooking app available for the iPad is the BigOven Lite app. Unlike other apps, BigOven Lite does not include a grocery list syncing function. The Serving Sizer Pro app is useful for converting quantities and organizing recipes.
The Wine Ratings Guide app is another valuable cooking app. It contains over one million wine ratings and provides information on name, price, varietal, food pairings, and a flavor profile for each wine. If you are using your iPad as an electronic cookbook, and you own other Mac products, it is suggested that you use MacGourmet to synch your MacBook, iPhone, and iPad so that you can import and share recipes between all three.
As promised, here is some more information about Epicurious, the top choice for cooking apps: Epicurious allows you to browse through various recipe collections, search recipes by keyword, filter searches based on what is in your fridge/seasonal foods/holidays, add recipes to a favorites box, email recipes to family and friends, add ingredients from your saved recipes to shopping lists, and check off items as they are bought.
While the iPad works great as a recipe reader, it is pricey at $499. The iPad can be found online at the Apple website or at your local Apple Store. If you are planning on using the iPad solely for cooking purposes, then it is probably not the best option due to the price. However, if you already own an iPad or you will be using it in various capacities, then adding cooking apps to it would definitely be a great idea. Cooking apps run from being free to up to $10. Once you download a cooking app onto your iPad, it makes a wonderful electronic cookbook.
Using the Kindle as an Electronic Cookbook:
The Kindle is a convenient, portable reading device with the ability to wirelessly download books, blogs, magazines, and newspapers. While the convenience is wonderful for reading the above, there are many drawbacks associated with using the Kindle as an electronic cookbook. The main reason the Kindle is not conducive to cooking is because going back and forth between pages is very time consuming. Unlike other electronic cookbooks which format recipes for electronic use, the Kindle is basically taking a traditional cookbook and transforming it to an electronic version, meaning that just like with a hardcopy cookbook you would need to flip back and forth between pages and what not. Another reason why the Kindle does not make a great electronic cookbook is because the pictures are black and white and hard to see.
However, there are some conveniences of using a Kindle as an electronic cookbook. For example, there is a great variety of cookbooks available for download, so you have access to a plethora of recipes. Also, the Kindle's search feature allows you to type in a keyword such as pineapple and find all of the recipes within a cookbook containing this ingredient.
The newest version of the Kindle is $189.00; it can be found online at Amazon.com or at several major retailers.
Please continue on page 2 for more on Electronic Cookbooks
Excalibur Electronic 457 New York Times NY Times Recipe Master:
This product contains 1,000 recipes from prominent New York Times Food columnist, Craig Claiborne. There is no option to add more recipes to this device or to link it to your computer. Due to its small size, the print on this device is very difficult to read and there is no option to enlarge it. However, its small size makes it convenient to take to the grocery store. The Excalibur automatically makes you a shopping list which you can add extra items to. A few other features of the Excalibur are its glossary of cooking terms, its built-in timer and measurement converter, and its easy-to-clean screen. The Excalibur is found exclusively online. While its retail price is $54.99, it can be found on several online sites for as little as $19.95. Although the Excalibur is significantly less expensive than its counterparts, it lacks many of the extra features found in the other products.
miBook MKC10 Cooking Kit:
This product sounds wonderful in theory. It contains a total of 300 recipes broken down into 'Quick and Easy Meals' and 'Irresistible Desserts.'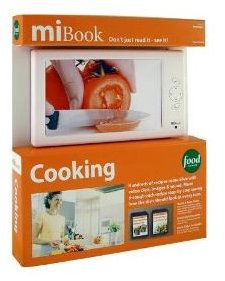 Each recipe is broken down step-by-step and there are visuals that show you what the dish should look like after every step. The text is a reasonable sight, but if you have eyesight problems, then the text size might be an issue for you.
Some of the special features of the miBook include its ability to allow you to plan menus based on main ingredients or cooking time. A timer and calendar are also built into the miBook. The miBook can also serve as a digital photo frame; you can upload your photos and they will be displayed on the 7-inch screen. You can also upload MP3s and enjoy music as you cook. While all of this sounds wonderful, the reality is that the video and sound quality of this product is very low. The sound is very soft and the videos and pictures are not high quality.
The list price for this product is $129.99, and it can be found online at Amazon.com or Ebay.com.
The Final Breakdown
If you are looking for a product that serves exclusively as an electronic cookbook, then the Demy Kitchen Safe Touchscreen Recipe Reader is definitely the way to go. Although it is the most expensive, it also has the most extra features, the best readability, and can store the most recipes. While the Excalibur Electronic 457 New York Times NY Times Recipe Master is the least expensive, it has very few extra features, you cannot add additional recipes, and the text is small and difficult to read. There is not a major price difference between the miBook MKC10 Cooking Kit and then the Demy Kitchen Safe Touchscreen Recipe Reader. In addition, the miBook MKC10 Cooking Kit has very low quality video and sound, which are its main features. On the other hand, if you already own a Kindle or an IPad, then either of these can be used as an electronic cookbook. While the Kindle is less efficient at getting the job done, there are no major issues with using the iPad as an electronic cookbook. However, unless you already own these products, I would not suggest purchasing them solely for the purpose of cooking due to their high prices.
Hope this comparison helps you make the best decision. Happy cooking!
References:
www.mydemy.com: Features
www.apple.com: iPad