Buying Guide for the Top 5 Electronic Word Games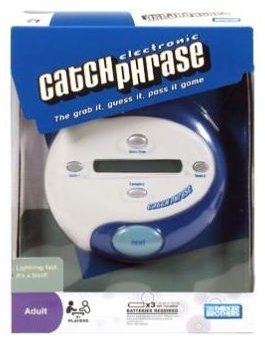 1. Electronic Catch Phrase
Catch Phrase is an awesome game. It is sort of like Taboo with fewer restrictions on the clues that you can give your team. There is an older, manual version of this game that requires you to load a disk full of words into the Catch Phrase game and hit a button to manually rotate the word-disk, which works fine until you have to stop your round to load a new word-disk. With the electronic word game version, all of the words are stored within the game. The electronic version also adds categories for the word-clues, instead of just having random words on each word-disk. There is also a built in timer and score tracker. You can get Electronic Catch Phrase at Amazon for around $22-$29, depending on the seller.
2. Electronic Scrabble Flash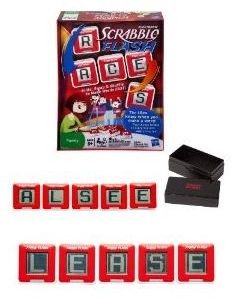 Electronic Scrabble Flash is a new adaptation of the famous Scrabble board game. Though, from the demonstration of Scrabble Flash available at Hasbros' website, this game is more akin to Boggle than to actual Scrabble. There are five individual electronic tiles, and each tile will show a letter. The tiles track your time through a 60 second round. During this time, rearrange the tiles to create as many different words as you can. The tiles recognize when you make words, beeps, and keep tracks of your score. Released in 2009, this game still commands a price of about $24 at Amazon, and you are going to need a surface to play it on, unlike many other electronic word games.
3. Jumble Electronic Word Scramble Game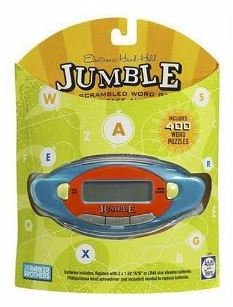 The Jumble electronic game by Hasbro is a word-scramble game where you attempt to decipher a series of four scrambled words, and then solve a final puzzle. A simple and inexpensive game for one player, Jumble can be found at many online retailers like Amazon for less than $10.
4. Electronic 20 Questions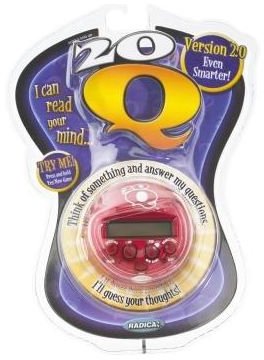 20 Q, the electronic 20 Questions game by Mattel, is a fun little word game for solo or group play. At my most recent visit to Toy's R Us, I was able to play the electronic game of 20 Q-Version 3.0, and sure enough, the game was able to guess what I had been thinking with a fair amount of accuracy. You think of a word in your head, and the game asks you twenty questions. You then tell the game if the answer to the quesiton is "Yes" or "No" by pressing the corresponding button on the toy. This was a neat game to play, even as an adult, so I know it would seem almost magical to a child. This game could probably entertain the whole family on a long car ride, where even the driver could participate, as long as someone else in the car handled the game and read the clues out loud. You can pick up 20 Q for about $10.00 online or at your favorite toy store.
5. Boggle with Electronic Timer and No Spill Pieces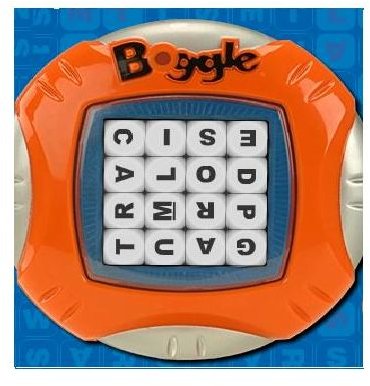 The latest version of Boggle offers a great mix of traditional physical components along with electronic features. The beauty of this newer version is its improved design. The days of putting a lid on your Boggle game and giving it a good shake are over. Now the letter cubes are in a self-contained unit. By twisting the game, you free the letters to be randomized through shaking. After you shake the game and twist it back into place, the cubes are locked into position. In addition, they have done away with the sand timer and replaced it with a built in digital timer. With no way to spill or lose cubes, and no sand-timer to take care of, the new Boggle offers the same game you love with a much better interface. The jazzed up version of this old classic can be bought on Amazon for around $14.
Screenshots by author courtesy of Amazon.