Cute, Fun and Cool Novelty Kitchen Timers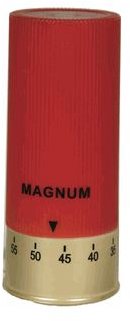 Shot Shell Novelty Kitchen Timer
Perhaps you know someone who likes to hunt for their own meals. On the other hand, maybe your favorite foodie doesn't appreciate others messing around in their kitchen. Either way, the Shot Shell Novelty Kitchen Timer is ideal. Simply turn the top section of the shell to set the timer for up to one hour. Around $7 at Mookie Gifts.
Cupcake Kitchen Timer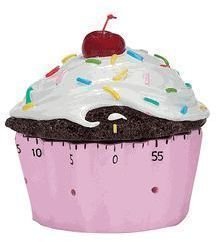 Cupcakes are currently in their heyday, which means the Cupcake Kitchen Timer is sure to be a big hit. Looking almost good enough to eat with icing, sprinkles and a cherry on top, this timer counts down up to 60 minutes and provides a loud ding to let you know time is up. From Bright and Bold for just under $25.
Digital Hour Glass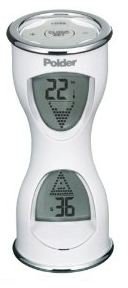 If you are looking for a digital kitchen timer, this one is fun and functional. The Digital Hour Glass is shaped just like a classic hour glass and even has digital "sand" that falls from the top to the bottom as it counts down your time. These novelty kitchen timers are available in red, black, white or silver from Amazon for around $15.
Tape Timer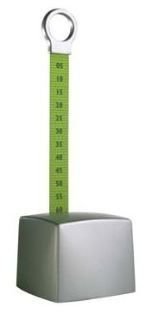 If your favorite foodie is also handy around the house, you will love the Kikkerland Tape Timer. It looks just like a measuring tape, and all you need to do is pull the tape up to the time "measurement" you want. It slides back into the holder as it counts down. Available at Amazon for less than $15.
Double Timer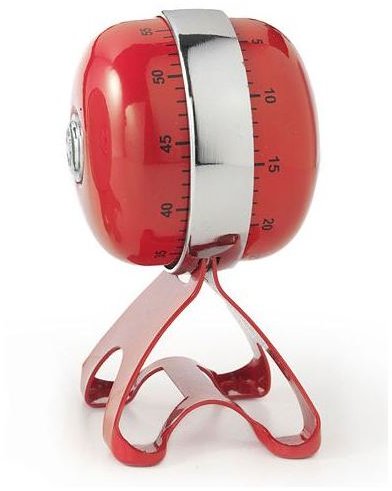 How often do you find yourself cooking or baking two things at once and requiring two separate timers? The retro-looking Double Timer solves this problem. This cool kitchen gadget allows you to set two distinctive times up to 55 minutes apiece. Available at Uncommon Goods for $18.
Ice Cream Timer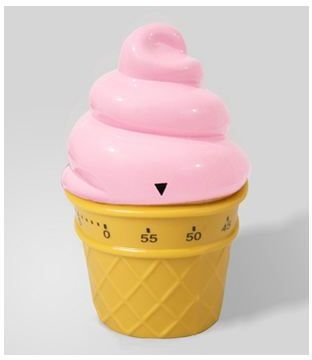 Another entry to make the list of cute novelty kitchen items is the Ice Cream Kitchen Timer. Resembling a strawberry-flavored soft serve cone, this timer will make a sweet addition to any kitchen. Just $10 at Fred Flare.
Penguin Tea Timer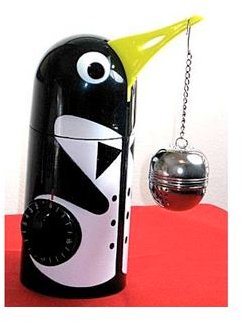 If you need a timer to let you know when the tea is ready, check out the adorable Penguin Tea Timer. Hang a tea bag or tea strainer from his beak and set the timer. The tuxedo-wearing little fellow will dip the tea into your cup as you set the timer. When the time is up, he lifts his beak and removes the tea from the cup. Use him as a regular kitchen timer as well. He will count down up to 20 minutes for you. Available from Stupid.com for just under $13.
Talking Chef Kitchen Timer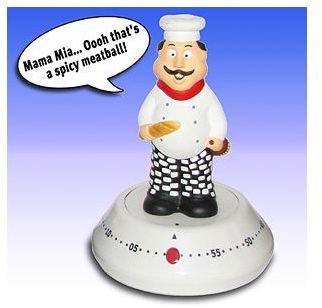 Do you get tired of talking to yourself while working in the kitchen? The Talking Chef Kitchen Timer can keep you company. This fiesty little Italiano will count down for up to 60 minutes and spouts six different sayings such as, "The problem with Italian cooking… 6 days later, you're hungry again!" Available from Taylor Gifts for around $20.
Days Ago Refrigerator Timer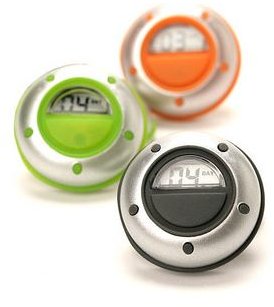 Perhaps you don't want to time your cooking, but rather track foods you have already prepared. If so, the Days Ago Refrigerator Timer is the perfect kitchen gadget for you. These button-sized novelty kitchen timers stick onto open food containers. Once you push the button, the countdown begins. No more wondering how long that tuna salad has been on the bottom shelf! Two reusable timers per pack are available for around $8 at Think Geek.
Coffee Pot Kitchen Timer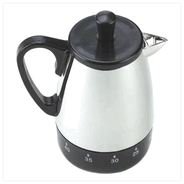 Using this kitchen timer is easier than starting a pot of coffee. The Coffee Pot Kitchen Timer looks like a nostalgic stainless steel coffee pot and will look cute in any kitchen. Under $6 at Novelties.com.
Starbucks Coffee Cup Timer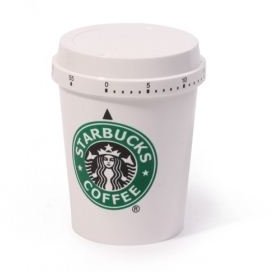 If your day doesn't start until you hit the Starbucks drive-through, you will love this kitchen timer. The Starbucks Coffee Cup Timer looks just like a tall hot coffee. Around $7 at NeoUni.
Retro Kitchen Timer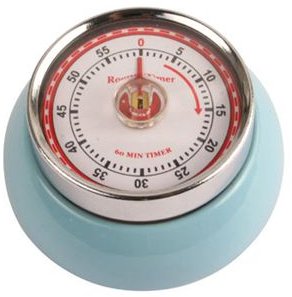 The Retro Kitchen Timer looks much like an antique thermostat or stove knob. Even the paint colors are nostalgic. Available in pale blue, sleek black or fire engine red for about $13 from Site Design NYC.
Tennis Ball Kitchen Timer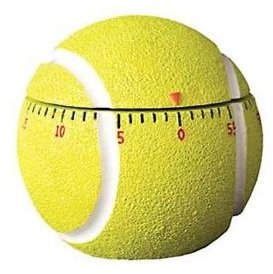 Tennis Anyone? The Tennis Ball Kitchen Timer is just right for your sports loving foodie. Simply dial the top of the ball for up to 60 minutes and the timer will ding when time is up. From Amazon for under $12.
Cat Kitchen Timer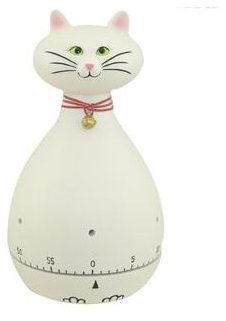 Cat lovers will adore this charming timer featuring a smiling white cat with a bell on a pink ribbon around her neck. This timer makes a ticking sound and a loud ring when time is up. $12 at Sur la Table.
Smiley Face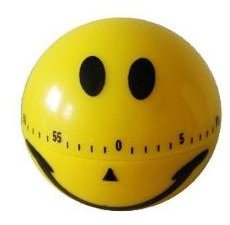 Smile while you cook and bake; this timer will grin along with you! The Smiley Face kitchen timer features the classic bright yellow face with a simple black smile. Under $5 at Amazon.
Cheeseburger Timer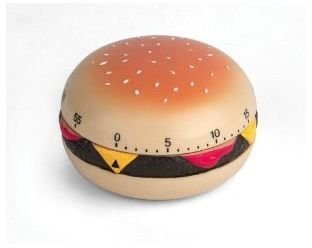 If your favorite foodie would rather be manning the grill, the Kikkerland Hamburger Kitchen Timer is sure to please. This 60-minute timer features a delicious-looking burger dripping with melted cheese and ketchup on a sesame seed bun. Available at Amazon for around $10.