5 Great Kindle Accessories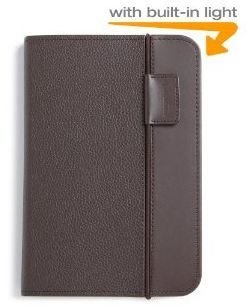 Lighted Leather Cover
One of the major complaints about new technology is that it just doesn't mesh with the look of today's office. The Kindle lighted leather cover might just take care of that. This genuine leather case offers stylish protection along with a built in retractable reading light. At $59.99 it is an economical way to add classy protection for your prized e-book reader. The cover comes in black, burnt orange, chocolate brown, hot pink, steel blue, apple green and burgundy red all with a grey microfiber suede interior for plush, scratch resistant protection. This cover fits the 6" screen size and incorporates a reading light into the body of the case. The light takes its power directly from the kindle unit so no extra batteries are necessary.
Rapid Car Charger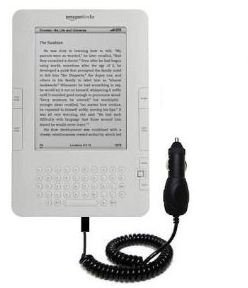 The Gomadic rapid car charger Kindle accessory is perfect for on the go people. This is the accessory you need if you don't have time to hang around at home waiting for your Kindle to charge for the day at the beach. It'll also come in handy if you are on a long car trip, reading away, and the Kindle starts to run low. No need to pull into the next rest stop and delay the trip! At $29.95 the Gomadic is perfect for anyone who reads more than one book a week on their Kindle. This charger is compatible with 2nd generation and later models. It's 1000 mA high output current charges faster than standard chargers. It comes with a full lifetime warranty. Faster charging doesn't mean increased risk of damage though. With its advanced internal circuitry the gomadic rapid charger prevents devices from surges; overcharging and short-circuiting and on top of that if anything does happen it comes with a full lifetime warranty.
Lexerd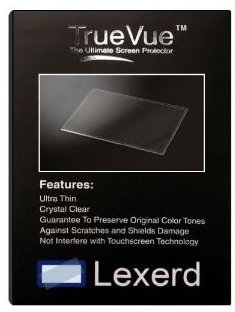 This is one of those things that is almost a given when you are looking for Kindle accessories. Screen protectors keep your Kindle safe from accidental damage. The Amazon Kindle Reading Device TrueVue Crystal Clear Screen Protector by Lexard may seem pricey at $29.95 but compared to the flimsy disposable $2 covers out there this one is well worth the up front investment. This ultra thin, crystal clear cover is guarantee to preserve original color tones. It is heat and water resistance and will not interfere with touch screen technology. At 0.2 mm thick it won't hinder the docking capabilities of the Kindle either. The precision fit of the screen protector enables it to defend against even the most damaging of scratches.
Scosche SolBAT II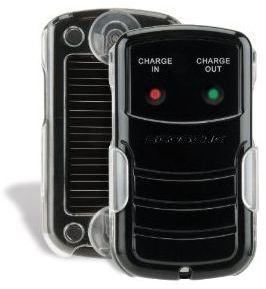 This solar powered backup battery and charger is perfect for readers who like to spend their time by the pool or out at the beach. Obviously the traditional plug in chargers don't do well around water but this little battery backup doesn't need the outlet. The unique thing about this charger is that it has a USB 2.0 port built into it so any device charger that uses a USB interface can be used. So the kindle USB charger you picked up to charge off your computer works perfectly with this battery backup. It has a status light that tells both when it has an incoming and outgoing charge. At $24.99 this one is a great deal, use it for your Kindle and any other device you might be lugging around.
DigitalsOnDemand 14-Item Accessory Bundle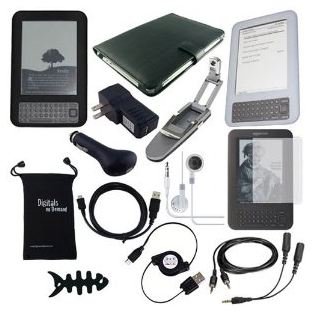 This is a complete bundle for the new Kindle owner. It has the basic kindle accessories that Kindle owners will need (and at $29.99 you can't beat the price, that's what you'd pay for the case alone). This kit is meant for the Amazon Kindle 3 3rd Gen Wireless Reading Device (6" Display, 3G Global Wireless, Latest Generation) and includes a black silicone skin , white silicone skin, premium black leather case, screen protector, reading light, earphones, earphone Y splitter, AUX cable, wall charger adapter, car charger adapter, USB sync cable, retractable USB data cable, Ffishbone and a drawstring travel pouch for storing all of your travel cables.
All images courtesy of Amazon.com