Amazon Kindle 3: What are the Rumors?

No matter what Internet search you do on the rumors behind the Kindle 3, you can bet the farm there's a reference to a recent "Bloomberg Report." I'm not sure about this because as I searched for news on this new eReader, I found articles from March, April, October (the Bloomberg Report) and even November of 2010 – so who's right here?
According to the Bloomberg Report, the new Kindle 3 will have 3G mobile technology and Wi-Fi at a price of about $190. Bloomberg also reported that the Kindle 3 will be "lighter and thinner than previous versions and have faster page turns and sharper resolution."
eReader Chat has a different Kindle 3 rumor: while the Kindle 3 is expected to compete with Apple's iPad, the Kindle Touch will not be ready for the holiday season.
In addition, eReader Chat says of the Kindle 3 that "It will sport a more responsive screen with a sharper picture, and will be even thinner than the Kindle 2's already trim 0.36 inches." Of course eReader Chat blames the Bloomberg Report for exposing the non-available Kindle Touch, they also have a post that says that "Amazon has acquired a small New York-based startup by the name of Touchco, whose specialty it seems is developing touchscreens."
eReader Chat goes on to point out in a later post that if the Kindle 3 is what will be available for the holidays and not the Kindle Touch, "why did Amazon even purchase a touchscreen company?"
Best eReaders said in April of 2010 that the new Kindle 3 will have Wi-Fi and color and 3G technology and "instead of glass-based panel, the Kindle 3 will have unbreakable, more flexible screen based on metal foil." No release date could be found on the Best eReaders' website.
Actually if you go right to the source – Amazon – the so-called new Kindle 3 is really the Kindle 2.5 that includes the Wi-Fi and 3D technology and it does indeed cost $189, but they're not calling it the Kindle 3.
Various eReader forums are also offering comments on the Kindle 3 rumors, mostly that if and when it is released, with the touchscreen technology, it will be expensive and out of some people's price range much like Apple's iPad.
What Kindles are Available?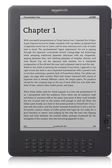 A short trip to the Kindle Home Page on Amazon offers three Kindle models, none of them being the Kindle 3!
The Kindle Wi-Fi that has a display size of 6 inches and can hold up to 3,500 book titles is approximately $140. The Kindle Wi-Fi + 3G also has a display size of 6 inches, can hold up to 3,500 book titles and will cost you $189 (this model is the Kindle 2.5 and the model behind the Kindle 3 rumors).
Lastly, Amazon is offering the Kindle DX priced at $379. This model has a display screen of 9.7 inches, is twice the size of the other two models at 18.9 ounces and along with its 3,500 book title capability, it offers both online and offline battery life; 7 days and 2-3 weeks, respectively.
I'm not quite sure where all the Kindle 3 rumors are coming from, but perhaps it's those wannabe Apple iPad people who can't shell out the $499 to buy an iPad and are just "dreaming" about a new touchscreen Kindle? For now, however, the Kindle DX is big, but without the touchscreen technology as of yet, the price at almost $380 is high. For me, Kindle 3 rumors or not, I still wonder if it's possible (or if you'd even want to) read two books at the same time with an eReader?
Screenshots courtesy of Amazon Kindle.