The following selection of kids karaoke machines are fun options for your junior singing star.
Disney Hannah Montana Karaoke System with Video Camera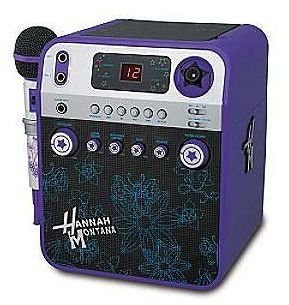 This kid's karaoke machine is inspired by popular pop star Hannah Montana. It includes a video camera that can be used for viewing while a person is singing. Also included is a microphone, a single disc CD player. The system is suitable for kids that are age 6 to 14 years. It is available through the DisneyStore.com and Amazon.com for $89.00.
Disney Jonas Bros Karaoke Machine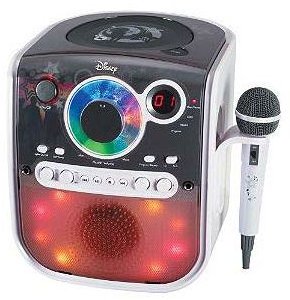 For kids that are fans of the Jonas Bros, this karaoke machine will be right up their alley. The system includes a demo disc that has some of their popular hits. This machine is very durable and easy to use with a lighting effects feature that flashes when music is played. It includes 20 tracks of programmable memory, a single CD-C disc player with a speaker system for stereo sound quality. Find it on Amazon.com or ToysRus.com for $79.00.
Sing Along CD Player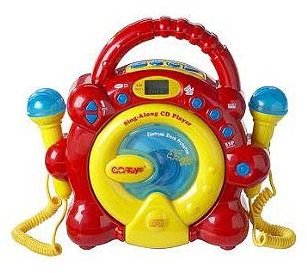 Consider purchasing the Sing Along CD Player if you are looking for kids karaoke machines that are suitable for toddlers. The player is very durable with a bright red and yellow color design. It includes two microphones. Target.com and Amazon.com are selling this one for $59.99.
Hello Kitty Karaoke System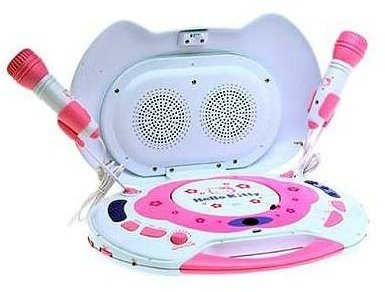 This cute pink and white Hello Kitty inspired karaoke system is suitable for little girls aged five and up. It includes two microphones, CD player and a disco light that flashes when the system is powered up. Amazon.com offers this item for $39.95.
Fisher Price Kid Tough Music Player with Microphone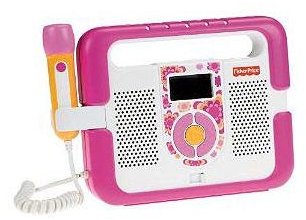 Fisher Price is well known for many fun kid toys and products. This karaoke machine is perfect for preschool aged girls or boys. The durable construction is designed to stay intact even if it is dropped multiple times. It is available in bright pink or blue and comes with an attached microphone. A great feature is that MP3, WMA and iTunes songs can be downloaded directly into this little player. Buy this one at Amazon.com for $49.99.
LeadSinger LS-2100 Karaoke System

For older kids, the LeadSinger LS-2100 is a karaoke machine built directly into a microphone. It coordinates with a TV to display lyrics for 200 built in songs. The device can be adjusted for pitch, tempo and volume. It is available through the LeadSinger.com for $129.
VTech KidiJams Studio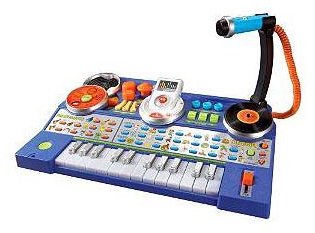 This unique kid's karaoke machine offers music mixing with ten different musical instruments. The attached keyboard lights up to help kids learn how to play songs. It also includes a music scratching disc and a microphone with digital voice effects. Check this one out at Amazon.com for $59.95.
The images for the kid's karaoke machines article were provided by https://www.amazon.com