If you have a new Nook, this article will help you get started with it. Before you can use it, you have to charge it and then register it with Barnes & Noble. Once you have finished this, you can start adding books to it that you purchase from the Barnes & Noble e-Bookstore.
Charge Your Nook
Just how does the Nook work? Well, your Nook must be charged before you use it for the first time. Press the power button located on the top of the Nook. Plug the Nook into a wall outlet with the power adapter and USB cable included. You can use the Nook while it is charging. It will take approximately 3 hours to fully charge the Nook.
The Nook battery will last approximately 10 days if the wireless feature on the Nook is turned off. If the wireless feature is on, or you play music, the battery will last approximately 2 days.
Turn it on when it is finished charging by pressing and releasing the power button. The Nook always stays on if it is charged, but it will go to sleep if it is not used for a certain amount of time. If it is asleep and you want to awaken it, simply tap the power button. To turn the Nook completely off, hold the power button down for 5 seconds until it turns off.
Register Your Device
You have to register your Nook to a Barnes & Noble account before you can use it. This links the Nook to your B&N account so that you can purchase and download books, magazines and newspapers from the Nook Book Store to read them on your Nook.
A Barnes & Noble account is the email address and password you use to sign into your account, and it allows you to purchase and download books to your e-reader, as well as make purchases while on your computer.
If you don't currently have a Barnes & Noble account set up, you can create one in a few minutes directly from your NOOK during the registration process. During the account creation process, you will set up your email address, default credit card number, valid expiration date for that credit card, and a current U.S. billing address. To register Nook, perform the following steps.
Turn your Nook on. Review the Terms of Service and tap Accept.
Select the Time Zone and tap Next.
Connect to a Wi-Fi network. To register and purchase books you must be connected to a Wi-Fi network. You can connect to your Wi-Fi network at home. If you visit a Barnes & Noble bookstore, you will automatically connect to their free in-store Wi-Fi network, and also connects to over 24,000 AT&T Wi-Fi hotspots free. If you are in another location that has Wi-Fi access, the Nook lists the networks found. Tap the network you want to connect to. If there is a symbol next to the network name, it is secure and you will need to enter a password to connect to it.
Register your Nook if you already have a Barnes & Noble Account:
Sign in by entering your email address and password for your B&N account, and then tap Submit.
Register your Nook if you do not have a Barnes & Noble account:
Tap the Create an Account button.
Fill out the form entering in your name, email, password and other information requested, and then tap Submit.
Your Nook is now registered.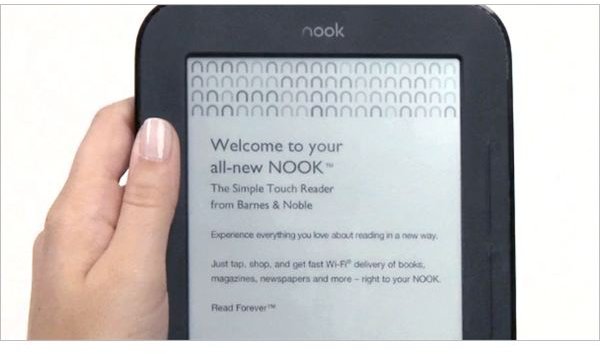 Add Books to Your Nook
Once your Nook is registered and charged, you are ready to add some books so you can start reading. Perform the following steps to add books to your Nook.
Press the Home button and select Shop from the touchscreen. Browse through the books. You can get samples for free before you buy the book.
Find the title you want, and press Buy. Follow the onscreen prompts. The book will be charged to your credit card on file and automatically download to your Nook.
Press Read from the touchscreen to open the book on the Nook. Swipe the pages to turn them as if you were flipping through pages in a book. You can also use the Previous and Next Page buttons located on the side of the Nook to turn the pages in the book.
Tap My Library from the Home screen to see all of the books located on your Nook. Tap the cover of a book to open it.
If you want to change the text size of the book you are reading, tap the Text icon on the page and select the text size and font.
Using a Nook is fairly simple, and by now, you should have a good idea just how. Does the Nook work with magazines? You bet! You can even use it to read your favorite newspapers. Keep in mind that the more you use your Nook, the more you will learn about it.
If you know of a good tip for using the Nook that we didn't cover, be sure to visit the comments section below.
References
http://www.cityofportsmouth.com/library/nook_Quick_Start_Guide.pdf

Image Credit: http://www.barnesandnoble.com/nook/support/index.asp