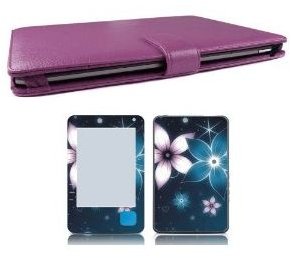 Choosing a Cover
While fit and protection are certainly importantly, ultimately your decision regarding which case to purchase comes down to style and personal taste. Should you decide that one of the following options suits your preferences, you can find links to purchase them online in the References section at the end of this article.
Bundle Monster Borders Synthetic Leather Cover
This covers provides protection for your Kobo eReader in more ways than one. The package contains three items that each help protect your Kobo device. First is the screen protector, which is obviously provided to protect the Kobo screen from dust, smudges and scrapes. The decal sticker, while mainly lending style to your device, also provides some additional protection against scratches. The carrying case is made of synthetic leather and provides maximum protection from bumps and other types of impacts. It is designed specifically to fit the Kobo eReader. You can get it for $21.99.
Kobo eReader Leather Case Folio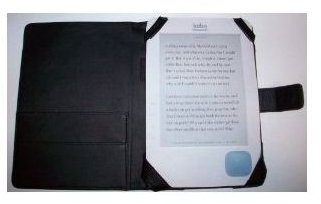 For the affordable price of $19.95, this Kobo case is made of natural leather. If you want that real leather feel and smell, this option offers it as a luxurious way to carry and contain your e-Book reader. It features a magnetic closure system and slots for pieces of paper and business cards. It is designed to specifically fit the Kobo, and is recommended as ideal for people who like to look professional when lugging around their Kobo device.
Case Crown Fashion Neoprene Sleeve Case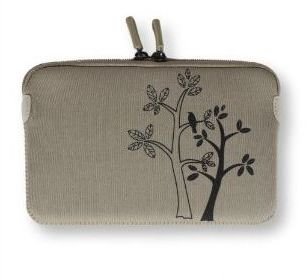 This case is designed to be lightweight and comfortable even if you are hand carrying your Kobo device all day. It features double zippers for convenience and durable neoprene for maximum protection from scratches, impacts and other kinds of damage. Aside from the comfort and the protection, it also features a nice looking tree design that gives it an edgy yet minimalistic look. You purchase this cover for $12.18.
CaseCrown Fashion Neoprene Sleeve Case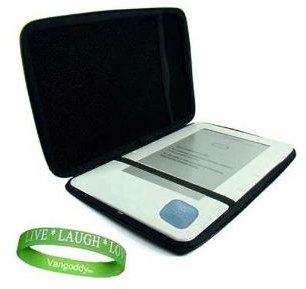 A snug fit from this carrying case provides maximum protection and comfort for your Kobo device. It has a reinforced exterior shell and a non-scratch internal lining. It even has water resistant properties so carrying your Kobo eReader around in any environment will become easy and efficient without the need for worrying about it getting damages. Protect your Kobo eReader and its accessories with this safe and secure cover for only $18.95.
Case Crown Fashion Neoprene Sleeve Case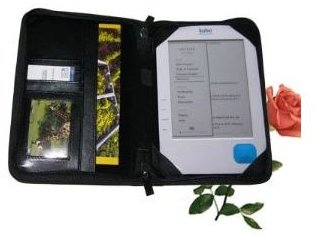 This folio organizer provides a classy way for you to carry and protect your device. It fits perfectly with the Kobo since it is specifically designed to accommodate the eReader. It has slots for business cards, sheets of paper and even pens,so you can have what you need conveniently on hand. The organizer holds your Kobo place with thick elastic corners, which provide the security you need without causing scratches and other types of damage. You can buy it for $24.99.
Kobo covers are designed to prevent scratch and damage that may happen from daily use. These are essential accessories which you can choose from to have a lasting Kobo device in its brand new appearance while providing easy and comfortable ways to carry them. These five covers have all of these elements including style for everday use that make them the perfect choice for you to outfit your Kobo eReader. You just have to determine what features you want and design fits your personality and you can pick one in no time.
References and Image Credits
Monster Borders Synthetic Case
Case Crown Fashion Sleeve Case
Images provided by the respective websites and manufacturers