Best-Ever Summer Barbecuing and Grilling Gadgets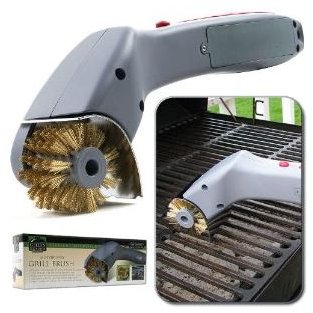 The top 10 grilling gadgets aren't all knock 'em out of the park fancy electronic accessories. Don't get me wrong, some of them are, but to make this list the gadget needed to be functional and something a grill jockey would use, not just an ornament proclaiming grilling superiority. Therefore, without further ado, the best of the best grilling gadgets you should not be without this year.
Motorized Grill Brush
If you hate scraping off the grill rack as much as I do then the Chefs Kitchen Motorized Grill Brush is for you. This battery-powered gadget takes eight AA batteries to power the rotary brass bristles. It also has a steel scraper for use on those extra tough burnt on chicken skins. For $14.99, this gadget is going to make grilling that much more enjoyable.
Grillmark Remote Probe Grill Thermometer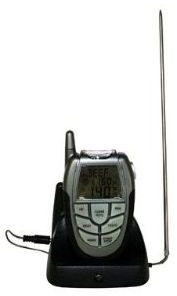 For those of us who like to grill or smoke our meats but live in a colder environment, the Grillmark Remote Probe Grill Thermometer is a true godsend (it's also pretty cool for the lazy griller or the multitasker). For $24.99, much cheaper than some of the name brands like Maverick and Weber, and the probe quality is actually better. The wires are solid, unlike the others. It has an LCD screen that monitors internal temperature of the meat and can be set to signal audibly when the meat has reached your desired temperature (there are no custom settings for this so you need to pick one of the presets that cover rare, medium rare, medium, done or well done). The wireless capability works at up to 100 feet and the battery life is quite good as well.
Weber Rapidfire Chimney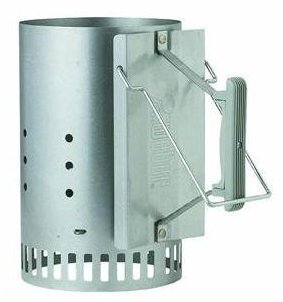 As far as gadgets go this one is really the most basic, a tube to hold your charcoal and efficiently get it to temperature. Some grillers use an old coffee can for a starter but it is not near as efficient as this handy gadget. For $19.21, the steel aluminized Rapidfire Chimney starter will quickly and evenly ignite your charcoal and have it ready in less than 15 minutes. The coals get hotter due to the internal heat transfer of the steel while the outside stays cool enough to handle. A great choice for the traditional griller (if you like to smoke your meats fill the starter halfway with coals and put moistened smoking chips on top for 30 seconds before removing the chimney – the smoking starts almost immediately).
Best of Barbecue 3-Head LED Grill Light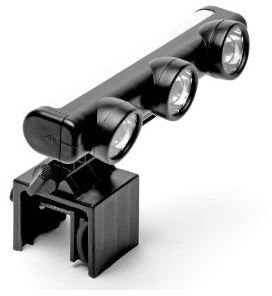 For those grillers who do not have grills located under a flood light grilling at night can be a challenge. The $36.88 Best of Barbecue LED Grill Light by Steve Raichlen (king of the grill) is the perfect solution. This little unit puts out plenty of light to grill by using only 4 C batteries. It clamps to the handle of the grill for easy use (some people mistakenly place this plastic fixture above the grill where it could melt).and is just as easily removed.
iGrill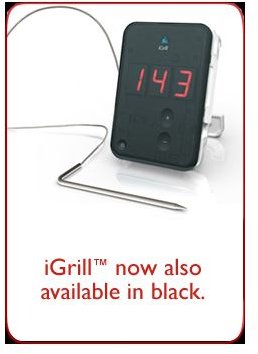 Do you need yet another use for your iPod Touch or iPhone? Why not try the iGrill remote temperature device for $99.99. This integrated probe pairs with your iPad, iPod or iPhone via the latest Bluetooth technology offering a range of 200 ft. The app allows for monitoring of two probes at once and works up to 400 degrees. There are time settings, graphical interfaces and real time and temperature readouts as well as alarm settings for set it and forget it grilling.
GrillPro Cast Iron Smoker Box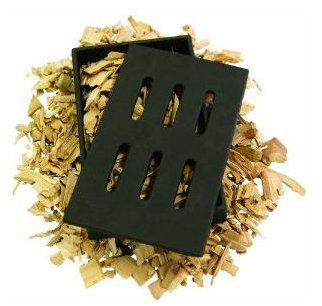 Every serious cook needs a smoker box. This is the best way to contain your wood chips without risking a quick burn out. For $11.99, you get an ultra-durable cast iron smoker box that will work in either a charcoal of gas grill. It might not be the fanciest box around, but this gadget is exactly what you need for great smokehouse flavor.
Charcoal Companion Ultimate Barbecue Pit Mitt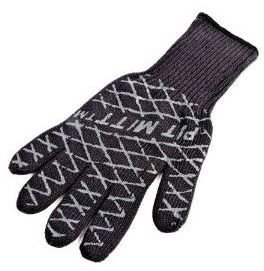 Ever burn your hand reaching over the grill to flip a burger or chicken leg? The Charcoal Companion Barbecue Pit Mitt will make sure that never happens again. The reversible mitt (both left and right handed) offers resistance up to 425 degrees with silicon grip for hand turning large racks of ribs. For $15.97, you will never burn your hand on the grill again.
Brinkmann Shish Kabob Set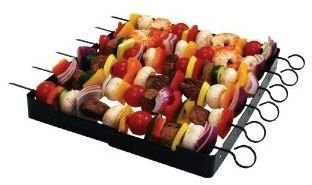 There are more expensive Shish Kabob sets out there but for the money, the Brinkmann set is all that you need. The $9.06 set of six powder-coated, steel, 18" skewers are set up on an easy turn rack so each Kabob can be turned separately. This means they can be used for different combinations of meats and vegetable without worrying about cook times. This might be the cheapest, easiest gadget you will ever find, and yet it will make you look like a grilling pro.
Charcoal Companion Ultimate Rectangular-Shaped Nonstick Grilling Basket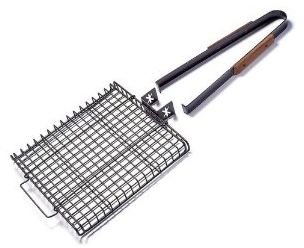 If you like to grill smaller items such as cut up vegetables, the gadget for you is the rectangular grilling basket. For $22.41, this basket will do the trick and its removable handle allows you close the grill top while cooking.
Bayou Classic 2-Ounce Stainless-Steel Seasoning Injector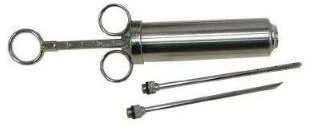 For the cook who has impromptu guests and no time to marinade steak, chicken or fish properly, the best way to season the interior is through injection. I prefer the stainless steel because it is non-reactive. This makes it perfect for injecting vinegar-based marinades as well as any others you might use. This 2-ounce injector comes complete with a minced marinade injector needle and a liquid injector needle. The liquid needle has holes in the sides to impart more marinade throughout the meat without having to poke the meat over and over. At only $20.89, every chef should have one of these for grilling.
References
All images except iGrill courtesy of Amazon.com
iGrill image courtesy of iGrill.com