Quick and Simple Sony Reader Instructions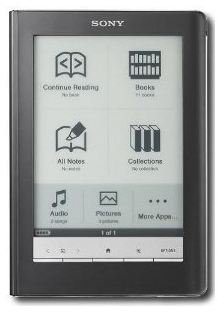 These instructions for the Sony Reader will come in handy if you've newly-acquired your device or even if you've been using it for quite a while.
Charging Sony Reader
If you're using your Reader for the first time, you would want to fully charge your device. You have two options when it comes to charging. First, if you don't have access to a computer, you can charge it via an AC socket outlet. Otherwise, you would want to charge it with your computer.
If you're using a laptop, it's advisable that it's connected to an AC power outlet. If it's not, the Reader will use up your laptop battery power. It's a risky option as when the laptop runs out of battery power, your Reader may not be fully charged.
Powering On
Once your Reader is fully charged, you're ready to power it on. All you have to is slide the power switch located at the top of the Reader. If the screen lights up, all is well. You can then follow the onscreen instructions to set up your language preference, date and so on.
You can also put the Reader in sleep mode by sliding the Power switch in the opposite direction. If there's no activity over your device for an hour, the Reader will be automatically be powered off.
If you want to power off your Reader after using it, just press and hold the switch for three seconds or more. When you power your Reader again, you'll be brought to the last screen you were viewing before switching your device off.
Sony Reader Freeze
What should you do if you turn on your Sony Reader and it freezes? This could happen if you run out of battery power. The first thing you should do is try recharging it. In most cases your Reader can recover from a freeze.
What if you've completely run out of battery power and your computer does not detect your Sony Reader?
Here are some tips to solve the problem. Connect your Reader to your computer with your USB cable. Don't panic if your Reader doesn't power up. You should see a red light though.
Keep the Reader connected to your computer for about 20 minutes. Then disconnect it and switch it on immediately. When it powers on, reconnect it immediately to your computer. An orange light will come on. Wait until the device is fully charged.
Importing Books
You can download eBooks from Sony's online store, if you have the Connect Reader installed in your computer. In Connect Reader mode, click on the eBook Store in Source View mode. Follow the instructions to purchase a book or download a free book from the store. Once your book is downloaded, it will be added to the Library where you can find it under the Purchased category.
You can also add content files stored in your computer into the library. In Connect Reader, you click on the File menu and choose Import Files. You can then browse to the directory where you've stored the files.
Then click on the Open button and your files will be imported into your Reader. You can also import a whole folder of files recognized by the Sony Reader. In the File menu, just choose Import Folder.
Home Menu
Should you get lost or run into problems while operating your Sony Reader, select Home. Here you can start afresh as it is the gateway to all the important functions and items in your device.
Further Sony Reader instructions could be obtained from your product manual or by visiting this Sony site.
References
General Sony Reader Instructions - https://www.docs.sony.com
Sony Reader Freeze - https://www.libraries.psu.edu/psul/lls/sony_reader/sony_reader_faq_classes.html
Image Credit: Amazon