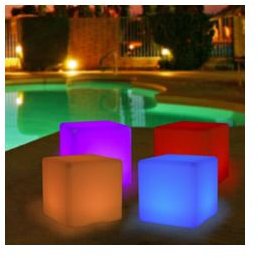 1. Illuminottoman
A trend setter is always looking for something that has a wow factor. The Illuminottoman is just such a gadget. This indoor/outdoor ottoman houses 58 color changing LED lights in the legs that offer a vibrant glow. These awesome seats are great for use around the pool or used in a home media/ theater room. They can be set to glow in a single color or to slowly filter through the entire range from green, white, red, blue, yellow, purple, or light blue hues. They can be run directly off AC power or use the on board battery for up to eight hours of portable use. A great addition to the modern decorating scheme, the simple white covering won't clash with the décor. They retail at Hammacher Schlemmer for around $150 each, however, for these cool new gadgets, the price is well worth it once you see the look on the faces of your friends.
2. AQ Wireless Speaker System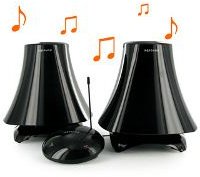 While we're looking at the backyard, we can't forget to mention the AQ Wireless outdoor speaker system. Again a modernistic look and perfect for use around the pool, this $148 waterproof speaker system available at Coolest Gadgets, can be placed anywhere within a 300 foot radius of the transmitter. You can keep the transmitter inside or bring it out to the patio and plug in your favorite music device. The transmitter is compatible with iPods and other MP3 players, digital FM receivers and a multitude of other electronic devices. The tech specs on this gadget are pretty impressive all by themselves including a 120 foot range through walls (so you can leave the transmitter inside). These speakers offer dynamic sound with deep base and admirable treble. They work on 6 AA batteries (8 hours play time) or can be run directly off AC power if connected to the main transmitter.
3. Pillow Remote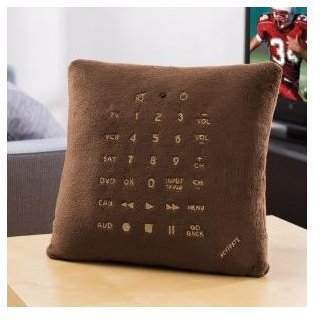 If you're always losing the television remote this is a perfect replacement. Not only is it an ultra comfortable pillow but a fully functional remote that can be programmed to control your TV, DVD player, cable box and several other peripherals. Okay, so it only comes in brown, but that's the only drawback. Probably the best feature is the activate button. If you don't hit the activate button first the remote won't function. This keeps you from accidentally changing the channel while you are adjusting the pillow on your couch. This was probably designed as a gag gift but its functionality makes it one of the coolest concept gadgets around. The $35 price point from Amazon puts it in line with several universal remotes out there (and those are the kind that the kids run off with or get stuck in the couch cushions).
4. Two-Way RF FOFA® Find One Find All® Key Finder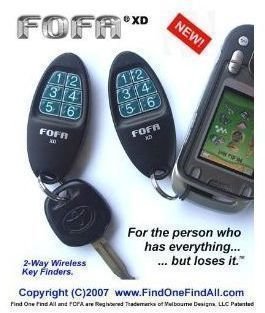 This is simply a great device that everyone should have. This is especially true if you are one of those people who spends five minutes trying to find your keys every time you go out. An initial set of two from Amazon costs around $25, but you can sync up to six units together so you could put one in your purse, one on your key ring and hook others to your cell phone, PDA, laptop, etc. Each unit is a transmitter so as long as you know where one of the remotes is you'll be able to locate all of the others. The range is 30 feet and even if you can't hear the audible alarm when you are searching, the unit still sends a signal you can see on the unit you are using so you'll know you are in the right area. Simply a great cool new gadget that everyone should have.
5. Energizer XP4001 Universal Rechargeable Power Pack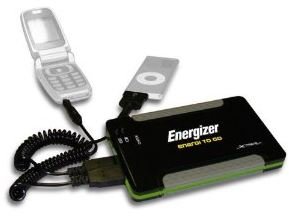 For around $52 at Amazon, this is a unit that should be in everyone's glove box. The Energizer Universal Rechargeable Power pack offers emergency backup power to a host of devices from cell phones and PDAs to MP3 players, virtually all of your cool new gadgets . This unit offers up to eight hours of back up battery life and can charge two devices simultaneously. It can be recharged via wall outlets or car chargers and will return to a full charge in four hours. It will hold a charge for a year so it is great for use in an emergency kit or in camping gear (as well as in the glove box). A must have for anyone who is always running low on a battery charge.
Product Information and images courtesy of Amazon, Hammacher Schlemmer and Coolest Gadgets