Best Electronic Dog Toys For Kids Buying Guide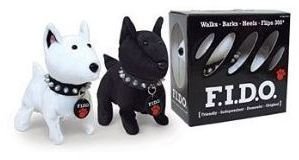 Electronic dog toys for kids are designed first and foremost to entertain children and keep them engaged. Some are also designed to be educational toys, helping to develop children's minds while providing entertainment.
Fido Walking Barking Flipping Dog
As the name suggests, this electronic dog walks, barks and flips. It is a nice way to entertain your kids if they are too young to play and take care of a real dog. Its cuteness factor comes from its look and its adorable abilities. It does not always land on its feet when it flips, but that is part of the fun of watching it do its thing. It is best to use it on flat surfaces to ensure successful flips, but again, watching the dog fail is part of its charm. You can buy it for $5.99.
LeapFrog My Pal Violet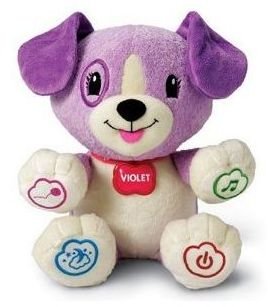 Violet is not just a cute fluffy dog. It is capable of playing back a child's name and music. Pressing its paws plays back songs, lullabies and activities involving numbers, animals, food and other topics. There are five pre-loaded lullaby tunes in Violet, plus four learning songs. You can connect to the Internet to download more content. There is also an online service called LeapFrog Learning Path that provides you with ideas on how to conduct learning activities with your child using Violet. The music library available to Violet online includes 30 songs. Violet offers both entertainment and learning, as well as a nice cuddling companion for your child. You can get it for $18.88.
Playskool Walk 'N Sounds Digger the Dog Children's Pull Toy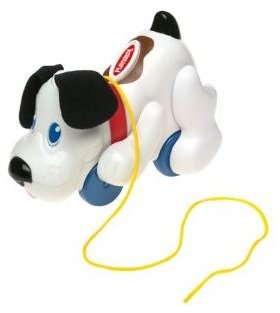 Designed to entertain very young children from one year and up, this dog produces sounds and movements when its cord is pulled. This paw friend is capable of barking, sniffing and producing whimpering sounds to get the attention of your child. This same cord also allows it to be pulled along as the child moves around, creating a sense of loyalty in the young child's mind. This entices the child to interact more with the dog whenever they want to get entertained. You can get it for $18.58.
LOL Rollovers Brown labrador Dog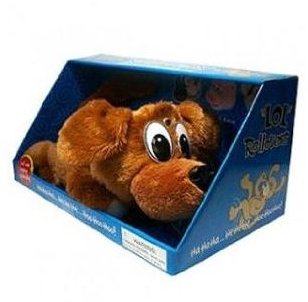 One of the best ways to make a child laugh is to have them hear someone else laughing. This dog can provide that kind of entertainment as it rolls over the floor while laughing hysterically. The hysterical laughter it produces is very contagious, so hearing it can also make a person laugh along with the dog whether they are young or old. You can buy it for $15.75.
Walter the Farting Dog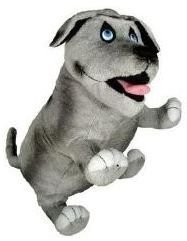 Some electronic dog toys for kids are educational while others provide entertainment by making sounds like laughter. This is one of those entertaining dogs, but it provides entertainment in a different way: by farting. All you need to do is squeeze its body and it produces a farting sound. It will surely provide a an easy source of humor for both kids and adults. You can buy it for $14.
For more fun and educational electronic games, check this article on The Best Electronic Games Buying Guide.
References and Image Credits
https://www.amazon.com/FIDO-WALKING-BARKING-FLIPPING-DOG/dp/B000PIBS1C/
https://www.amazon.com/LeapFrog-19157-My-Pal-Violet/dp/B001W35I8I/
https://www.amazon.com/Playskool-Walk-Sounds-Digger-Childrens/dp/B00004T2WO/
https://www.amazon.com/LOL-Laugh-Rollovers--Brown-Labrador/dp/B003NTDXCC/
https://www.amazon.com/Walter-the-Farting-Dog-8/dp/B000MWB730/