Solar powered educational toys are steadily increasing in popularity as parents come to realize the importance of their children learning about alternate power sourcing. This knowledge will hopefully lead to innovation as they grow to think in terms of fossil fuels being the alternative source. Additionally, as more toys become solar powered, there will be fewer batteries disposed of improperly. The ever-growing problem of the chemical components of batteries must be addressed, and starting with our children is a proven, effective means of generational education. Any solar powered toy or kit is the best way to teach children while having fun. Some solar powered educational toys allow for the optional use of batteries and this can serve to enhance the learning experience. By providing both sides of the energy issue, the result is a complete education, allowing for learning the advantages and disadvantages of both solar power and traditional battery power.
Frightened Grasshopper Solar Powered Bug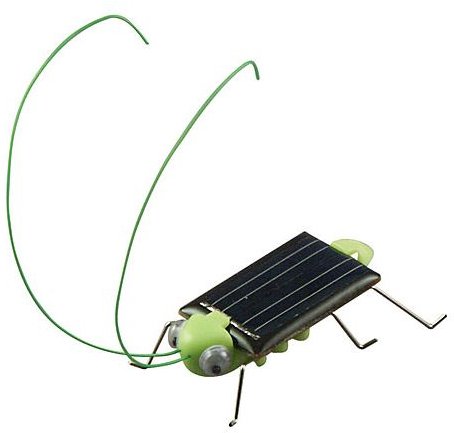 A very simple to assemble solar powered educational toy, the Frightened Grasshopper Solar Powered Bug (one of many bugs available), is extremely entertaining to watch. Kids can build the grasshopper and learn about solar energy and how sun is converted to electricity. Best powered with either a bright incandescent bulb or the sun, place him on a piece of paper and watch him jitter. Although it doesn't do a lot, it is fun to watch and hear. The true education is in the building and understanding how the solar cell converts light to electricity. Placing it on the carpet on a piece of paper dampens the buzzing caused by the grasshopper.
Solar Power by Thames & Kosmos
With all the parts necessary to build six solar powered models; propeller plane, locomotive, bulldozer, helicopter, backhoe and twin-rotor helicopter. The solar panel is made of three solar cells and generates 1.5V of electricity. A cradle is included to allow for use with the solar panel or a AA battery (not included). This great solar powered educational development toys kit will teach about alternative energy and the differences between energy sources. The pieces included in this Solar Power by Thames & Kosmos kit are compatible with every Thames & Kosmos Constructions, Physics, and Wind Power and Hydropower kits.
Happy Hopping Solar Powered Frog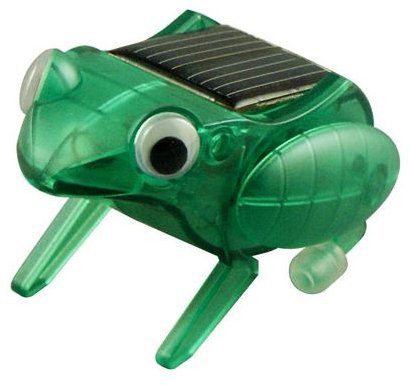 A cute solar powered little critter that will teach solar energy and how energy powers the motor that makes the little guy hop. With a fully assembled size under 3 inches, this little power house runs on a 1.1 V x 75mA solar panel attached to his back. Designed for ages 12 and up, this Happy Hopping Solar Powered Frog kit includes everything needed and requires no soldering. This little toy is more powerful and more impressive to watch than the Grasshopper (above), so it is more entertaining once it starts hopping. It will work on any horizontal surface.
Amphibious Solar Vehicle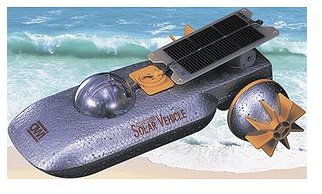 The catamaran type design of this great solar powered car prevents capsizing. With the ability to use either solar panel (1.4v, 350mA) or standard battery power, your child can learn about different power sources. With the comparative setup offered by the Amphibious Solar Vehicle, your child can see the advantages and disadvantages of solar power. Understanding solar power and solar powered educational toys has never been more fun.
Solar Powered Music Box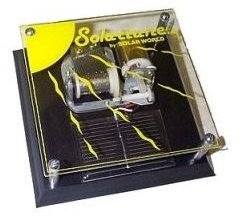 The Solar Powered Music Box plays 'The Entertainer' on a sunny day. With a clear acrylic case, learn not only the concepts of solar power, but the principle of the simple music box. This will also serve to teach the theory behind player pianos as a similar mechanism is employed. The drum and comb action is usually generated with a wind-up crank, so this is not an alternative to batteries or electricity. The Solar Powered Music Box will delight over and over just being left on a windowsill that receives plenty of sun. Although not exactly, one of the educational toys for infants, this music box is certainly solar powered and educational.
With the above list of solar power educational toys in hand, you would never be short of gift ideas. They will not only entertain the kids, but also help them learn something new.
Resources
Frightened Grasshopper Solar Powered Bug
Happy Hopping Solar Power Frog