Dell Streak 7 Preview
The Dell Streak 7 is the newly announced touchscreen tablet offering from Dell, to be released on T-Mobile's network in the U.S. Officially debuting at the 2011 Consumer Electronics Show (CES), the Dell Streak 7 is a 7-inch tablet running on Android. The Dell Streak 7 is following hot on the footsteps of the Samsung Galaxy Tab that was released earlier on T-Mobile's network. The huge difference is that the Dell Streak 7 will be the first 4G tablet to be released on T-Mobile's network.
Dell Streak 7 Specifications
Dimensions: 7.87 x 4.72 x 0.49 inches
Weight: 17.6 ounces
Display: 7.0 inch WVGA (TFT) touchscreen display with Gorilla Glass
Memory: 16 GB + expandable microSD card slot (up to 32 GB)
OS: Android OS 2.2
Processor: Dual core 1Ghz NVIDIA Tegra 2
Camera: Front facing 1.3 megapixel webcam, 5 megapixel rear camera with LED flash
Connectivity: GSM 850, 900, 1800, 1900, 2100 MHz
Data: EDGE, HSPA+
Bluetooth: Bluetooth 2.1, Stereo Bluetooth
GPS: GPS with A-GPS
Battery: Li-Ion 2780 mAh
Design and Display (3 out of 5)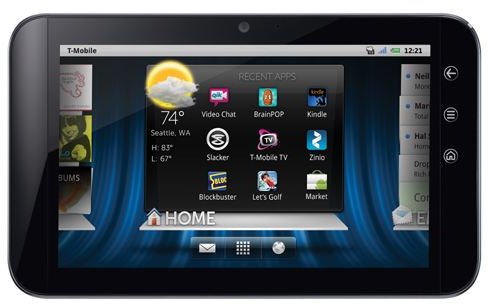 The Dell Streak 7 looks very familiar to another recently released 7-inch Android powered device, the Samsung Galaxy Tab. Like the Samsung Galaxy Tab, the Dell Streak 7 features a 7-inch capacitive touchscreen display that dominates the front, however, unlike the Galaxy Tab, the Dell Streak 7 has a different button configuration. Unlike the usual 4 shortcuts across the bottom of the display, the Dell Streak 7 has 3: back, menu and home. Also, the buttons are laid out in landscape format, so they seem sideways when holding the Dell Streak 7 in portrait mode.
The front facing camera is also placed on the right side of the tablet, which in landscape mode, places the front facing camera at the 'top' of the tablet. It seems that Dell is banking on the Dell Streak 7 to be mainly used as a landscape tablet. This may not work well with some, but one can only tell once the tablet has been released to the general public.
Hardware and Software (3 out of 5)
The Dell Streak 7 is set to be released with a powerful dual core 1 Ghz NVIDIA Tegra 2 processor, which is more than capable of running Android with no lag issues. The Dell Streak 7 will, unfortunately, be released with Android 2.2 (Froyo). This is an interesting turn of events considering Android 2.4 (or Android 3.0), Honeycomb has been rumored to be a tablet specific OS. The Dell Streak 7 certainly does have the hardware specifications to run Honeycomb, and there has been no announcement as to whether or not it can be upgraded to Honeycomb. One can only hope that the Dell Streak 7 will be able to be updated over to the air to Honeycomb with no need for rooting.
User Interface (3 out of 5)
The Dell Streak 7 doesn't offer any huge surprises when it comes to user interface. Android 2.2 sits prominently like on many smartphone devices. The big difference is that Dell has put on their innovative Stage user interface, which gives the Dell Streak 7 a more unified and sleeker interface. Each 'home' screen is actually an organized group of applications for photos, games, applications, etc. Overall, since touch is the main interface, the Dell Streak 7 is easy to pick up and learn for new users. In addition to these groupings, you can also press the applications icon to have applications load up, similar to Android-powered smartphones.
Features (4 out of 5)
The Dell Streak 7 is shaping up to have some amazing features with the help of T-Mobile's 4G network.

The 1.3 megapixel front facing camera will allow for video calling over T-Mobile's network, and it has Wi-Fi support, meaning you can also use Wi-Fi to video call. The Dell Streak 7 will also come with T-Mobile TV, allowing you to use the Streak 7 to access live and on-demand TV, including news, sports and movies. Qik Video Chat will be included, allowing you to video call with friends and family over Qik, so you can even video call them when they're logged into a computer using Qik. In addition to all these features, the Dell Streak 7 will also come with the Android Market, giving you full access to over 120,000+ applications.
The Dell Streak 7 also has a 5 megapixel camera with LED flash on the back. Though it may seem awkward using a camera on a 7-inch tablet at first, after a couple of uses, it becomes common place. The Dell Streak 7 also has Adobe Flash Player, allowing you to browse Flash-enabled websites on the browser. This is a huge advantage for the Dell Streak 7, as this is something the iPad refuses to adopt.
The Final Verdict (3 out of 5)
Overall, the Dell Streak 7 is shaping up to be a fairly nice Android tablet. However, with the Motorola Xoom, LG G-Slate, and the newer Samsung Galaxy Tab, one has to wonder how well the Streak 7 will fit in. Dell has shown some major flaws with the Dell Venue Pro and hopefully they'll dodge many of the mistakes they made. Currently the Dell Streak 7 is set to be released in the first quarter of 2011 and pricing options have yet to be announced. One can only expect pricing to be cheap as T-Mobile has some of the cheapest unlimited data plans in the U.S. In addition, T-Mobile has also not announced or is expected to announce any tiered pricing for 4G network usage, like the other carriers have slowly transitioned to.