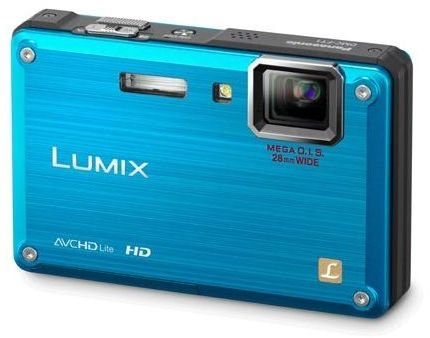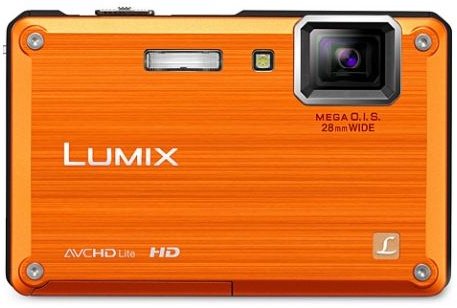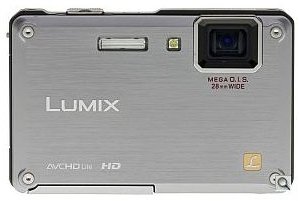 The Lumix DMC TS1 is the first offering by Panasonic in the 'Rugged, water-proof, shock-proof' type of compact cameras. For a first offering, this camera does pretty well. Panasonic is also the manufacturer of rugged laptops branded 'Toughbook', and I would say they've put the 'tough shell' expertise they possess to very good use here.
The Basics
The Panasonic Lumix DMC TS1 ships with the following items in the box:
Panasonic Lumix DMC TS1 body
Battery pack
Battery charger
Wrist strap
CD-ROM
USB cable
AV cable
Manual
Specifications:
Sensor: 12 MP CCD
Lens: 4.6 X (28-128 mm equivalent)
Screen: 2.7" LCD
ISO Range: 80-6400
Shutter speed: 60s-1/1300 s
Memory type: SD/SDHC
Dimensions: 3.9×2.5×0.9 (LxBxW, inches)
Weight: 184g
Dust-proof, water-proof(upto 3m), shock-proof( tupto 1.5m)
Stabilization: MEGA O.I.S
Movie: HD video in AVCHD Lite, enabling much longer periods of recording
Other features:Intelligent Auto, Intelligent Exposure, Wind-Cut, Face-Recognition,26 scene modes for still capture and 17 for movie capture
Minimum shooting distance – 3cm
Build Quality (5 out of 5)
The rugged metal body is the biggest USP of the TS1 and I'm happy to say that the camera doesn't disappoint at all. The brushed aluminum finishing looks solid and is built to withstand quite a bit of rough use. The body is airtight and is made of shock-resistant material. Rubber padding and carbon resin further reinforce the camera. The lens is covered with reinforced glass and is further protected by a damper to absorb impact. Use of folded optics prevents damage to the lens if it is dropped during use – the internal zooming prevents the lens from protruding out of its compartment, eliminating the chance of it bumping against any hard surface. Panasonic claims the dust-proof design prevents air-borne dust particles from causing damage to the camera. It further claims the TS1 can withstand a drop from up to 1.5m height, and can be used under water, even sea-water, till a depth of up to 3m. Panasonic recommends yearly replacement of the seals to keep the camera in prime condition.
Please continue on to page two of this digital camera review…
Design Features (5 out of 5)
Placement of buttons is quite standard, like most compact cameras. Buttons are made of metal and require holding down for a second to get activated. The knurled dial makes operation very easy. It also features a dedicated video button to begin shooting video irrespective of the mode you're in.
The quality of the 2.7" LCD is good, with visibility adequate even in bright sunlight. The large screen also compensates for the lack of optical viewfinder. The LCD can also auto-adjust its brightness depending on ambient light conditions. This may sometime lead to improper exposures in the photos, to combat which the camera comes with a live histogram view.
The buttons are well placed and offer good tactile response. Overall, the camera is very well designed.
Lens (5 out of 5)
The Lumix DMC TS1 comes with a 28-128 mm zoom lens with folded optics. As mentioned before, the folded optics help protect the lens from external damage. A wide angle of 28mm would prove a blessing for taking landscape shots and the zoom range of up to 128mm eq. is very usable indeed. Further, the lens is image stabilized (MEGA O.I.S) with options of stabilization in all 4 directions (Mode 1) or in only vertical direction to facilitate panning (Mode 2). The stabilization does its job to perfection and results in sharp images most of the time.
Chromatic Aberrations (5 out of 5)
Surprisingly, very little purple fringing or vignetting was noticeable. Distortion too was quite less and not noticeable for the most part.
Focus (4 out of 5)
Though focusing was quick and accurate, images were a bit soft at high zooms. At wide angle, the softness was apparent only in the edges and the central part was quite sharp.
Speed (4 out of 5)
The camera is quite quick with average focusing speed in the range of half a second. Flash recycling takes around 3-4 seconds, which too is quite good. Overall the camera is pretty responsive.
Battery Life (5 out of 5)
The provided 3.6-volt, 940mAh lithium-ion battery (DMW-BCF10PP) lasts for around 300 shots, which is quite above average for this class of cameras (around 220-250 shots).
Please continue on to the final page of this digital camera review.
Modes (5 out of 5)
The camera offers almost 26 different modes for still photography and 17 different modes for videos. That makes it quite a cake to use to the camera. The presets more often than not do their job and the output is more than satisfactory.
The simplest to use mode is the Intelligent Auto, wherein the camera analyzes the scene and sets itself up to optimal conditions. If it detects faces, it switches to the 'Face detection' mode, or if it detects a subject close to the lens, it switches to the 'Macro' mode. I'm happy to report its fairly accurate most of the times. This is real boon for the non-geeky people who'd rather enjoy the moment than worry about camera settings.
The other modes available in the TS1 include presets for most common photographic situations including Portrait, Soft skin, Transform, Self-portrait, Scenery, Panorama assist, Night portrait, Night scenery, Food, Party, Candle light, Baby1, Baby2, Pet, Sunset, High sensitivity, Hi-speed burst, Flash burst, Starry sky, Fireworks, Aerial photo, Pin hole, Film grain and Underwater mode. Whew! Trying them all out would sure fire any layman's interest in the art of photography! The 17 movie modes include Portrait, Soft Skin, Transform, Self portrait, Scenery, Low light, Food, Party, Candle light, Sunset, Beach & Surf, Snow, Aerial, Pin hole, Film grain, Underwater and High Sensitivity.
A nifty and extremely utilitarian feature is the 'Clipboard', wherein one can choose a particular image or document and the camera saves it onto its internal memory. Its particularly useful for storing important phone numbers or maps permanently in the camera.
Face Recognition (4 out of 5)
Most cameras feature a 'Face detection' feature wherein human faces are detected and 'boxed' by the camera. The Lumix TS1 goes one step ahead and allows you to tag the detected faces with the person's name and age. Subsequently, the camera 'recognizes' the person and not only detects his/her face, but also tags the face with the name and age, and prioritizes focus on that particular face to make it bright and sharply visible, ensuring your loved ones' faces are never shot poorly. Further, the provided software can sort the photos according to the names of the people recognized, which is quite a boon if you want to pick out just those of the pics where your Mom or your girlfriend features. The Category Playback feature of the camera also allows playback of only those photos which have a 'registered' face in it.
I must warn that this feature is in its first iteration, and hence gives mixed results. I'm quite hopeful that subsequent versions would see refinement and improvement in this technology. So, even though its not flawless, I'd rate it high for the excellent concept and a decent version 1.0.
Movie Mode (4 out of 5)
Pressing a red button dedicated to movie sets the camera rolling in any mode. A wind-cut feature, usually found in camcorders, is available, which cuts noise due to wind blowing in the background. The zoom lever can be used while shooting movies too, a feature rarely found in this type of camera. Formats include motion JPEGs at 30 fps in resolutions of 1280 x 720, 848 x 480, 640 x 480, and 320 x 240,or HD movie (1280 x 720) in the AVCHD Lite format. The built-in LED automatically turns on while shooting in dark surroundings. One disadvantage of shooting in AVCHD is that playback is possible only on a HDTV, or on a PC with the bundled software installed. Mac does not support the HD files, and neither would older PCs. My personal opinion is that is you don't own a HDTV, its best to stick to the motion JPEG format, which is much simpler to use and plays back on almost any computer or TV.
Value for Money (5 out of 5)
The TS1 retails at around $320. For the excellent array of features and quality of photo it offers in an extremely hardy casing, I'd say its full bang for the buck! Highly recommended!